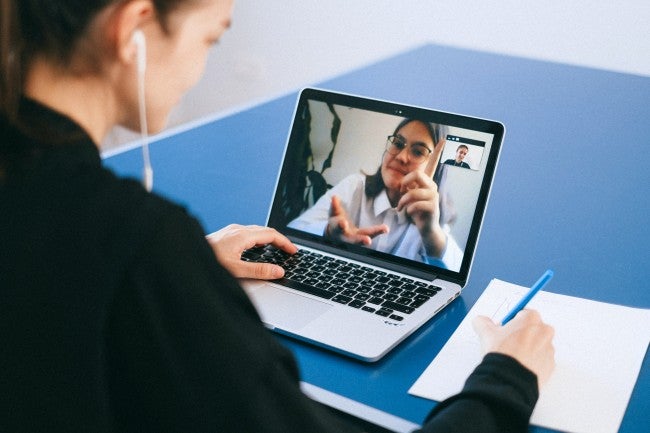 With an uncertain economy, students are closely examining what degrees to pursue during the COVID-19 pandemic. Naturally, job security and earning potential are top of mind. This is why business degrees, including accounting, HR, and MBAs, remain among the top areas of study during the pandemic.
Experts predict that by the time today's incoming business students graduate, both the coronavirus pandemic and economic downturn will be behind us. And those with advanced business degrees will be better prepared to take full advantage of the market upturn. People who are already in the workplace—but have lost their jobs or are worried about layoffs—are also considering retooling their skills or pivoting their careers into more stable business fields.
Whatever your reason is for pursuing a degree during COVID-19, you can use this guide to discover what business programs are currently trending and the best options for your future career.
High demand for online business degrees.
One of the reasons that business degrees are still in high demand during the pandemic is that business schools have long focused on the concept of disruption in the marketplace—and this idea is particularly relevant now, just in a different form.  
Thus, those with a business degree will have valuable skills to help their organizations adapt to these market changes and thrive in the new economy. This is why a survey by mba.com found that despite the pandemic, the majority of prospective students stayed resolute in their plans to earn a business degree.
Another reason they've decided not to delay their plans is because of the growing confidence in the quality of an online education. Online MBAs, for example, are gaining traction during the pandemic because schools such as WGU are offering respected, accredited programs that students can complete safely at home.
Top WGU business degrees during COVID-19.
So what are the best business degrees to pursue right now? Accounting, human resources, and a master's in business are the three programs that are getting the most applications at our university during the coronavirus pandemic. Let's explore each in detail so you can determine which best aligns with your interests and goals.
At WGU, we saw a small dip in accounting degree applications during the initial months of COVID-19, which was consistent across other colleges and universities. However, applications quickly rebounded and hit a new peak in October of 2020. 
And that's no surprise. Accounting is such a popular degree because it leads to a profession that will always be in demand—in good times and in bad. In fact, the Bureau of Labor Statistics predicts an 11.2% job growth rate for accountants and auditors over the next 10 years. And this means there will be an ongoing need for a strong pipeline of accounting graduates. 
Another reason accounting is such a desirable profession is that there are numerous jobs and roles that you can pursue with the right degree and education:
Bookkeeper, accountant, and auditing clerk—With a bachelor's in accounting you can secure one of these entry-level accounting roles, where you'll handle a wide variety of administrative tasks. You can then leverage your experience towards earning your CPA license.
CPA—To become a certified public accountant, you'll need to build on your bachelor's degree and on-the-job experience to pass your CPA exam. This then allows you to write and render opinions on audited financial statements (something that entry-level accountants can't do), which can also lead to a career as an auditor.
Financial Manager—These are stable, high-paying jobs that require a master's in accounting plus a CPA license or other finance certification. You can work as a treasurer, controller, and credit, cash, or risk manager where you'll create financial reports, direct investment activities, and develop long-term plans for meeting your organization's financial goals.
The true beauty of an accounting degree is its flexibility. Accounting is inherent and applicable to all kinds of businesses, so you don't have to become an accountant. You can work in many other finance roles, too, such as a financial or operations analyst or financial examiner. And this significantly broadens your employment opportunities, which is key when looking for work during or after a recession.

Year after year, interest in earning a human resources management degree continues to grow. Even during the coronavirus pandemic, WGU saw a spike in applications during the summer—which shows that students and professionals alike are still recognizing the tremendous value of an HR career.
Human resources personnel are needed by nearly every industry and organization, and their importance cannot be overstated. They ensure their companies:
Acquire and retain the best talent.

Develop employee potential.

Comply with employment laws.

Offer attractive strategic benefits.
In other words, HR professionals are essential for keeping their organizations competitive, which is why these roles will be even more indispensable after COVID-19.

So how can you move into one of these coveted positions? Typically, after earning your bachelor's degree you'll start as an HR specialist handling employee recruitment, compensation, and training, and earning a median average salary of $61,920. Then, with five or more years of experience, you can move into an HR manager position where you'll plan, coordinate, and direct your organization's administrative functions and take a big jump in pay—averaging $116,720 per year.
An option to advance your HR career faster or make you more competitive as you enter the job market is to get an MBA in addition to your HR degree. At WGU, you can earn this master's degree online, enabling you to complete coursework when and where you have time and even keep your full-time job. You should also consider getting certified by the Society for Human Resources Management (SHRM), which will help with job security and promotions.
Lastly, one of the biggest draws to the HR field is high job satisfaction. As an HR specialist or manager, you'll help your company and its employees achieve their goals—which is very rewarding. You'll also make an excellent salary in a recession-friendly occupation. So it's no wonder US News & World Report ranked human resources as one of the best business jobs in America right now.
Of all of WGU's business degrees, our master's programs are showing the strongest growth with a 16% increase year over year—even during the pandemic. There are many reasons why:
People who have been laid off are using this time to go back to school for their master's to become more desirable candidates and secure better, more stable jobs.
Others who are still employed, but uncertain about the length and depth of the recession, are getting their master's to become more valuable to their current organizations—so they're less likely to be laid off or take a cut in pay.
Prospective students are still pursuing a master's in business because they want to be as competitive and skilled as possible once the pandemic ends and the job market rebounds. 
Many also know that the current unemployment rate is much higher for high school graduates (8.6%) than for those with a Master's degree (3.9%). Which is why enrollment in master's programs has grown by 6% and post-baccalaureate certificates by 24% from the previous year, according to the National Student Clearinghouse.
Whatever your reasons are for furthering your education during the pandemic, a master's in business gives you a lot of options as to what type of occupation and industry you can pursue. Here are some of WGU's most sought-after programs:
Why should I pursue a business degree during COVID-19?
To date, people with advanced degrees have been significantly less impacted by COVID-19's economic fallout. And, according to the Pew Research Center, highly educated Americans are much less likely to have lost their health insurance or struggled with paying bills since the coronavirus pandemic began. Thus, an advanced business degree can give you better financial certainty in uncertain times.
If you're a prospective business student, now is an opportune time to develop or fine-tune your marketable skills so you're ready to find a great job once the crisis has blown over. Or if you're a working professional and want to safeguard or progress your career, earning your business degree can be a game changer. The leadership and management skills that you'll learn can be applied across all professions and industries.
Either way, you can use your bachelor's or master's in business to make yourself more competitive, valued, and productive in the changing global marketplace. Take advantage of this time to set yourself up for success in the months and years to come!