By Tonya Drake, WGU Regional Vice President and Chancellor
For a quarter century, Western Governors University (WGU) has been proudly breaking traditions and pioneering new models in online, higher education. Now our university is also poised to break a record with its Seattle commencement ceremonies on July 16th, which will be the largest in person and virtual commencement event in WGU's history.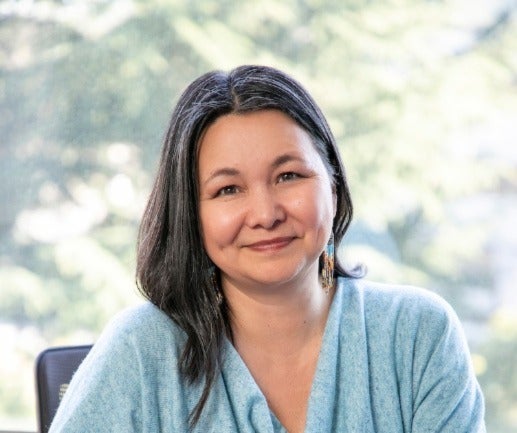 Tonya Drake, WGU Regional Vice President (Northwest)
It's an impressive milestone for our Night Owl community and the culmination of decades of innovative, passionate efforts to transform higher education opportunities for adult learners in this country.
We know education changes lives. It opens doors to new opportunities, creates new ways of thinking and has an impact for generations to come. Twenty-five years ago, a visionary group of governors began our tradition of breaking traditions by creating a new pathway to educational opportunity through technology and a different learning model. They knew that the college student of the 21st century would have very different needs from students in the past.

For millions of working adults, the dream of pursuing a college education could only become a reality once the boundaries of time and place could be removed. Now, thanks to the power of the internet and an innovative competency-based learning model, WGU has become one of the largest universities in the country that proudly recognizes over 265,000 alumni in all 50 states and around the world. In honor of its 25th anniversary, the university is awarding $125,000 in scholarships. 25 scholarships each worth $5000 will be awarded in 2022 (WGU 25th Anniversary Next Generation Scholarship).
Here are some key ways that WGU has broken traditions in higher education:
How students learn:
WGU is unique for its competency-based model, which measures skills and knowledge rather than time spent in class. This fundamental principle means that WGU students aren't stringently bound by the "seat time" associated with traditional class schedules—they progress through coursework as they demonstrate mastery.
What students learn:
WGU's offerings are focused on areas where workforce needs are expected to remain strong for the foreseeable future. And in terms of the skills taught, WGU's degree programs are carefully designed to meet the shifting needs of the workforce. Every skill and certificate learned in route to a degree from WGU is connected to the in-demand skills, competencies, and knowledge that will qualify graduates for rewarding, in-demand jobs.
Student support:
Each student receives one-on-one support and is assigned a WGU program mentor, who stays in touch via phone calls, video chats, and text messages throughout their academic journey. Students can often join cohorts composed of peers to discuss course material and share ideas, much as they would in a traditional classroom. The student-centered nature of WGU's model ensures that every step of their journey is personalized.
What students pay:
WGU's flat-rate tuition is about half that of most other online colleges, and there is a built-in incentive for students to accelerate their learning to make it even more affordable. Because the tuition per term is fixed, it doesn't matter how many courses students complete—they'll still pay the same rate. What's more, nearly half of WGU students are able to complete their degrees without taking on any new student debt, and among those who do borrow, the average student loan debt at graduation is less than half the national average.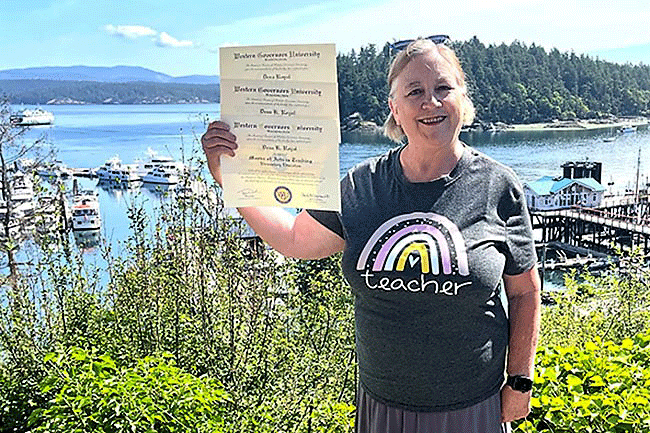 Dena Royal earned three degrees from WGU in just two years
What does a tradition of breaking traditions look like? It looks like Dena Royal, who at 65 years old, will walk in next week's commencement after achieving one bachelor degree and two masters degrees in two and a half years. Dena started college in the 1970s, but life got in the way, and she never completed her degree.
After raising her children as a single mom, Dena said it was time to prioritize her education. "After extensively researching universities, WGU became the obvious choice due to affordability and flexibility," she said. A previous resident of both Whidbey Island and Friday Harbor, Dena is now pursuing her dream by teaching K-5 students in the Aleutian Islands in Alaska.
It also looks like Damien Mills, who thought his learning disability would prevent him from his dream of Becoming a Beacon of Possibilities (wgu.edu). With help and support  from his mentor, who encouraged him to keep going after several failed attempts in achieving his certification due to his disability, Mills obtained his Bachelor of Arts degree in Special Education. He was chosen as a graduate speaker at WGU's winter commencement ceremony because of his commitment to teaching and empowering high-risk youth at a school in Puyallup.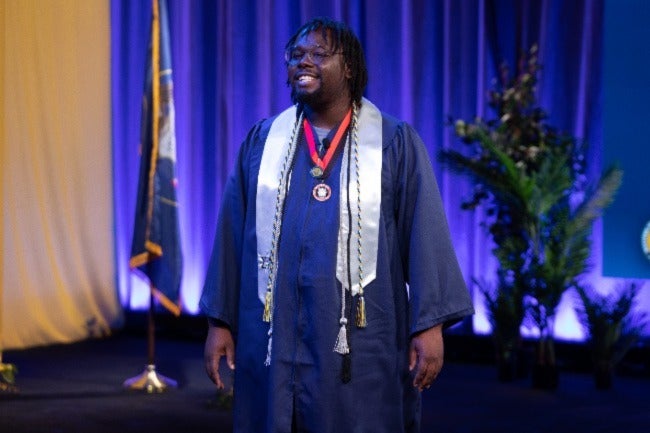 Damien Mills was a Graduate Speaker at WGU's winter commencement
And it looks like Marissa Price, who found herself homeless right before she started her WGU journey and contemplated quitting several times because of life challenges. But with the support of her mentor, she kept going because she "wanted to climb higher" in her career and knew she needed her degree in human resources to do so. Her resilience culminated in becoming WGU's 250,000th graduate last fall. "I wanted to climb higher, and I did." (wgu.edu) Marissa was so honored by that announcement that she gave her baby girl the middle name "Sage" in honor of WGU's mascot, Sage, the Night Owl.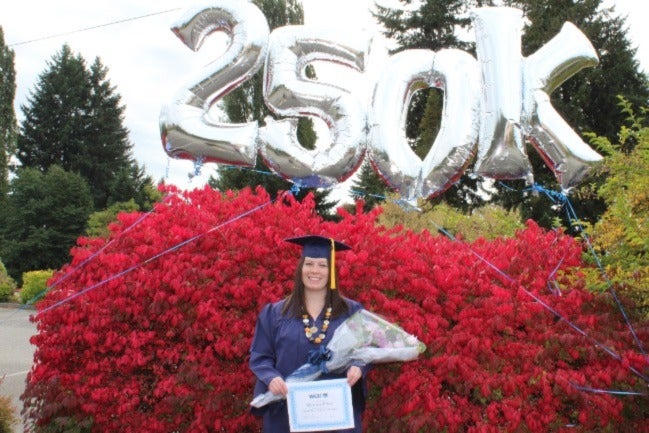 Marissa Price was celebrated as WGU's 250,000th graduate
I'm proud to join Marissa, Dena, Damien and all our graduates in celebrating their impressive accomplishments at this year's record-breaking Seattle commencement at T-Mobile Park.  I'm excited for the future as WGU continues its tradition of breaking traditions in higher education. And I'm more determined than ever to support WGU's mission of creating new pathways to opportunities for adult learners through affordable, accessible, accredited higher education. We're just getting started.