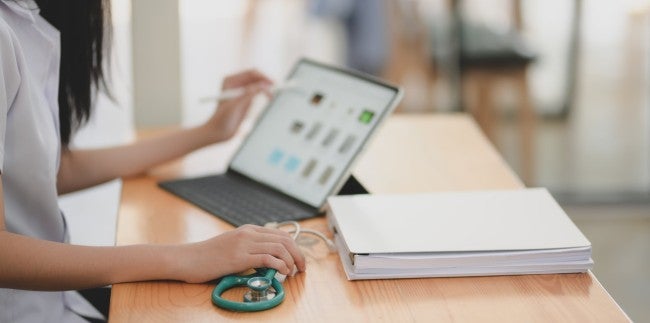 Health information management (HIM) is the collection, analysis, storage, and protection of patient health information and medical records. It is a multidisciplinary field composed of technology, research, and health care experts. Although this field doesn't involve direct patient care, it is undeniably vital to the industry because health care systems rely heavily on the data innovation this expertise generates and oversees. The growing popularity of electronic health records (EHR) has spawned a greater need for effective health information professionals. Think of it as the nerve center of health, connecting medical professionals, the information they gather to track critical patient data, and the patients themselves. Without the intricate multitude of managed data, the health industry simply could not function. Health informatics managers use this data to influence decisions, improve patient outcomes, and work toward a better future in healthcare. 
Role of health information management.
What does a health information manager do? Daily responsibilities differ depending on the work environment (hospital, clinic, office). The health care field is full of possibilities. With a health information degree, you can pursue the following health positions: 
Compliance officer

EHR specialist

Director of clinical informatics

Health systems manager

Clinical data analyst

Chief medical information officer

And many more 
Regardless of their specific role or work setting, most HIM professionals have the following health information responsibilities in common:
Review paper and electronic health records for completeness, accuracy, and timeliness

Organize and maintain clinical databases

Track patient outcomes

Organize medical records to share with other providers

Find new ways to protect patient privacy in healthcare settings

Manage other staff members in healthcare information positions

Report on patient data as part of studies and analysis
What is the salary for health information management professionals?
Adding management-level skills to your credentials can pave the way to a promising future—and higher income. Several factors go into determining salary range among health information management positions, including how specialized the role is and amount of work experience. More than half of new health information graduates with bachelor's degrees start with salaries in the $30,000 to $50,000 range according to the BLS, but after just a few years, it's possible to earn upwards of $75,000 annually. (Note that these figures are just averages, and many professionals report higher salaries.) For instance, according to Indeed, the average annual salary (as of September 2020) for a health information manager is $79,531 compared to $71,929 in 2017— a roughly 9.5% increase in just three years. Also as of September 2020, CareerBuilder reported a national average salary of $91,323 for health informatics jobs overall.  
Work environment for health information management.
Health information management is a dynamic, highly rewarding career field because every role within it shares a single primary focus: improving the quality of patient care. It is also one of the areas of health care with the greatest opportunity for growth and improvement. Health information technicians work in a diverse range of settings, from hospitals and physicians' offices to nursing and residential care facilities and government agencies. Most health information technicians are full-time employees, and some work at health facilities that are open 24/7, which can require evening, weekend, or overnight hours. 
Health information management roles are also high in demand. This is especially welcome news for those who currently work in healthcare and want to pursue credentials that will elevate their careers. Online education is the vehicle that can get them there, providing the flexibility they need to complete coursework while juggling work and family responsibilities. Competency-based programs in healthcare information management—like the one offered at WGU—give working students the power to complete their degrees as fast as they learn, ultimately expanding their knowledge and skill set and boosting their earning potential.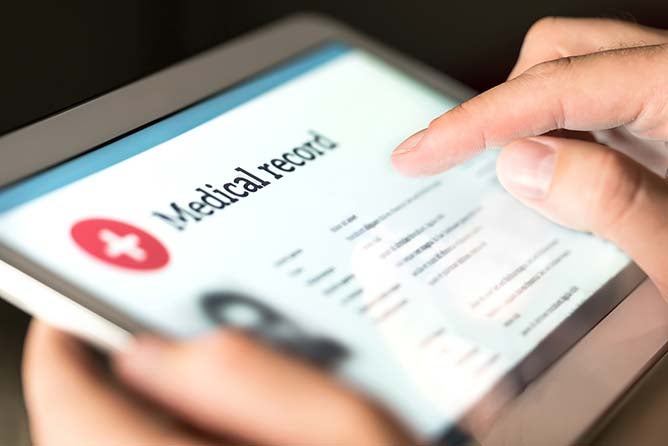 How to launch a career in health information management.
Ready to expand your information management education for an even greater role in patient care? If you work in healthcare and already have some clinical and/or technical knowledge, or even if you don't, now is the perfect time to earn an industry-current degree in health information management from WGU. WGU's Health Information Management bachelor's degree program is accredited by the Commission on Accreditation for Health Informatics and Information Management Education (CAHIIM). The CAHIIM accreditation means this program prepares you in the health information areas you need—and also includes credentials that will boost your résumé even more, such as qualifying you to sit for the Registered Health Information Administrators (RHIA) exam. According to the American Health Information Management Association (AHIMA), an RHIA certification stands out to potential health information employers because it shows that you have a solid grasp on managing patient information systems and that you understand the healthcare system. You'll also earn a CompTIA certification, which signifies your IT knowledge. Together, these credentials will provide invaluable proof of your knowledge in medical and information technologies and that you are invested in the field.
AHIMA characterizes health information management as one curriculum encompassing multiple disciplines: medicine, management, finance information technology, and law. This unique combination opens up an exceptionally wide array of job possibilities for HIM graduates. The American Health Information Management Association also reports that its members work in more than 40 job categories and hold more than 200 unique job titles. Check out this interactive career map to see how these titles are briefly described and broken down into four main categories. 
Health informatics workers play crucial roles in today's highly data-driven healthcare system. They serve as conduits between clinicians, administrators, tech designers, and IT professionals. This is why health information management is a prime example of an accredited WGU degree program with careers that promise continued growth. Maximize your potential for a thriving, meaningful future in this exciting field. WGU is here to help you do it. Get started today!