About WGU Indiana
University governance.
Nonprofit, independent, and guided by a mission.
The mission of WGU Indiana is to expand access to affordable higher education for Indiana residents through online, competency-based degree programs that address key workforce needs.
Created through a partnership between the State of Indiana and national nonprofit Western Governors University, WGU Indiana is a state-endorsed, online, competency-based university offering, high-quality, affordable degree programs for working adults in the state.
Alison Bell, Chancellor, WGU Indiana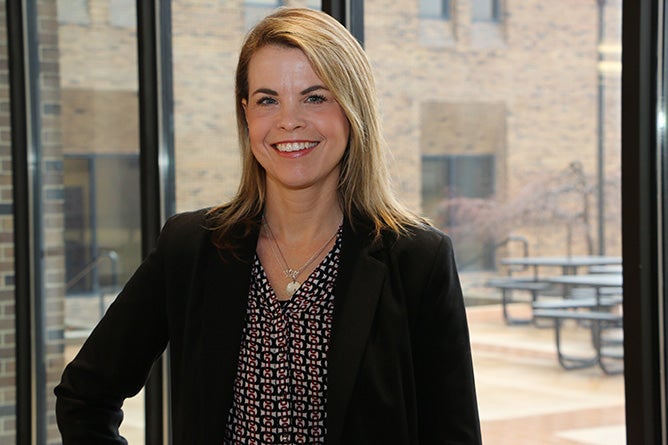 Higher education veteran Alison Bell is the chancellor of WGU Indiana, the state's online, competency-based university. Bell has more than 20 years of higher education leadership experience, including four years of prior experience with WGU as general manager of WGU Indiana operations from 2010-2014.
Before returning to WGU, Bell served as Director of Degree Completion at Indiana University-Purdue University Indianapolis, where lead operations and supervised academic coaching and career staff.
Bell earned a B.A. in Psychology from Indiana University and a M.A. in Student Personnel Administration in Higher Education from Ball State University.
WGU Indiana is a private, nonprofit institution that was established by the state of Indiana in partnership with Western Governors University. WGU Indiana is led by Chancellor Barber and an Advisory Board who reside in Indiana and provide guidance on the most effective ways the university can meet the need of Indiana residents.
WGU Indiana Advisory Board
Cindy Adams, Chief Nursing Officer, St. Vincent Health
Vince Bertram, President & CEO, Project Lead The Way (PTLW)
Todd Bess, Executive Director, Indiana Association of School Principals (IASP)
Carol D'Amico, Executive Vice President, Mission Advancement and Philanthropy, Strada Education Network
Kathy Davis, Owner, Davis Design Group and former Lt. Governor of Indiana
Gerry Dick, President, Grow Indiana Media Ventures LLC
Sue Ellspermann, President, Ivy Tech Community College and former Lt. Governor of Indiana
Karen Freeman-Wilson, Mayor, Gary
Michael Langellier, President & CEO, Techpoint
Jamie Merisotis, President & CEO, Lumina Foundation for Education
WGU Indiana operates under the same governance as that of its parent institution, WGU: a Board of Trustees consisting of educators, industry leaders, and state governors.

The Honorable Jim Geringer, Chairman
Director, Policy & Public Sector, ESRI
Governor of Wyoming (1995 – 2003)
John W. Bluford III
President
Bluford Healthcare Leadership Institute
Cole Clark
Executive Director, Higher Education Client Relations
Deloitte Services, LP
Dr. Therese (Terry) Crane
President
Crane Associates
Joseph B. Fuller
Professor of Management Practice and Co-Director of the Managing the Future of Work Project
Harvard University

The Honorable Eric Holcomb
Governor
State of Indiana

The Honorable Jared Polis
Governor
State of Colorado

Tammy Johns
CEO
Strategy & Talent

Scott D. Pulsipher
President
Western Governors University

David Simmons
President
Simmons Media Group

Dr. Samuel H. Smith
President Emeritus
Washington State University

Dr. Charles Sorenson
President and CEO
Intermountain Healthcare
Van Ton-Quinlivan
Chief Learning Officer
SEIU-United Healthcare Workers West (UHW)
Jessie Woolley-Wilson
CEO and President
Dreambox Learning

Governors of Member States
Jim Geringer, Chairman
Governor, Wyoming 1995–2003

Michael O. Leavitt, Chairman Emeritus
Governor, Utah 1993–2003

Alaska
Governor Mike Dunleavy 

Arizona
Governor Doug Ducey

California
Governor Gavin Newsom

Colorado
Governor Jared Polis

Guam
Governor Lourdes Aflague Leon Guerrero

Hawaii
Governor David Ige

Idaho
Governor Brad Little

Indiana
Governor Eric Holcomb

Montana
Governor Steve Bullock

Nebraska
Governor Pete Ricketts

Nevada
Governor Steve Sisolak

New Mexico
Governor Michelle Lujan Grisham

North Dakota
Governor Doug Burgum

Oklahoma
Governor Kevin Stitt

Oregon
Governor Kate Brown

South Dakota
Governor Kristi Noem

Texas
Governor Greg Abbott

Utah
Governor Gary Herbert

Washington
Governor Jay Inslee

Wyoming
Governor Mark Gordon

WGU's National Advisory Board.
Another crucial source of support is our National Advisory Board, made up of representatives from prestigious corporations and foundations. Members provide ongoing support and advice to the university.
WGU's National Advisory Board is a diverse group of industry leaders. Its members help WGU foster a global, visionary perspective in the strategic planning process, ultimately enhancing our ability to fulfill our mission.
Academic program councils.
In partnership with Western Governors University, WGU Indiana provides curriculum, learning resources, mentoring, and student services to WGU students in Indiana. The academic programs are developed and guided by WGU administrators within several councils of scholars and industry experts.
Scott D. Pulsipher
President
MBA, Harvard University
Marni Baker-Stein
Provost and Chief Academic Officer
Ph.D., University of Pennsylvania
Alan Smith
Vice President, Academic Business Process
M.S., Penn State University; MBA, University of Texas at Austin
Sarah DeMark
Vice President, Program Development
Ph.D., Arizona State University
Stacey Ludwig Johnson
Vice President, Academic Operations, Teachers College
Ph.D., University of Colorado, Denver
Mitsu Frazier
Vice President, Academic Operations, College of Business
MBA, Western Governors University
John Balderree
Vice President, Academic Operations, College of Information Technology
Master of Accounting and Financial Management, DeVry University's Keller Graduate School of Management; MBA, American InterContinental University
Scott Jones
Vice President, Academic Operations, College of Health Professions
MBA, University of Phoenix
Deb Eldridge 
Dean and Academic Vice President, Teachers College
Ed.D., Boston University
Rashmi Prasad
Dean and Academic Vice President, College of Business
Ph.D., University of Kentucky
Elke Leeds
Dean and Academic Vice President, College of Information Technology
Ph.D., Walden University
Jan Jones-Schenk
Dean and Academic Vice President, College of Health Professions
DHSc., A.T. Still University
Lucas Kavlie
Vice President, Accreditation & Compliance
Ed.D., University of North Texas
Debbie Fowler
Senior Vice President, Student Success
J.D., University of San Diego
Randy Bennett
Norman O. Frederiksen Chair in Assessment Innovation
ETS
Ph.D., Columbia University

C. Victor Bunderson
Professor, Instructional Psychology & Technology
Brigham Young University
Ph.D., Princeton University

Peter Ewell
Vice President
National Center for Higher Education Management Systems (NCHEMS)
Ph.D., Yale University

Ric Luecht
Professor of Education Research Methodology
University of North Carolina at Greensboro
Ph.D., University of Wisconsin-Milwaukee

Lawrence Rudner
Vice President, R&D
Graduate Management Admission Council
Ph.D., The Catholic University of America

Donna L. Sundre
Professor of Psychology
Executive Director, Center for Assessment and Research Studies
James Madison University
Ed.D., University of North Carolina at Greensboro

Health Professions Program Council

Grace Coventry
IT Strategy Principal Director
Accenture
Andrew Croshaw
CEO Leavitt Partners
Dr. Paul Handel
Former Sr. VP and Enterprise CMO
Health Care Service Corporation

Dr. Brent James
Executive Director, Institute for Health Care
Delivery Research
VP, Medical Research & Continuing
Medical Education
Intermountain Medical

Dr. Paul Keckley
Healthcare Industry Analyst & Policy Expert
Governor Mike Leavitt
Founder of Leavitt Partners
Former HHS Secretary and Governor of Utah
Delphene B. Oliver, MSN, MBA
AVP Executive Development
Hospital Corporation of America

Dale Prestipino, BSEE
Executive VP, CIO
Accolade, LLC

Dr. Ken Sharigian
SVP & Chief Strategy Officer
American Medical Association

Carol Ann D. Wilhelm, MPH, RHIA
Consultant and Adjunct Instructor
Loma Linda University, Cypress College
Kathy Apple, RN, MS, CAE
Former CEO, NCSBN (retired)

David Benton, RGN, PhD, FFNF, FRCN, FAAN
Chief Executive Officer
National Council of State Boards of Nursing

Brenda Cleary, PhD, RN, FAAN
Former Director
Center to Champion Nursing
Former NC Congressional Candidate

Mark Douglas, JD, FNP, RN
Head National Medicaid Innovation
Executive Director Population Health Strategy

Linda Knodel, MSN, RN, FAAN
AONE Past President
Chief Nurse Executive, Senior Vice President, National Patient Care Services
Kaiser Permanente

Richard C. MacIntyre, PhD, RN, FAAN
Professor
Samuel Merritt University

Margaret McClure, PhD, RN, FAAN
Former Chief Nursing Officer
NYU Medical Center
Co-author of the original Magnet Hospital study under the auspices of the American Academy of Nursing

Amaechi George Ozor, MSN, RN, CEN, TCRN
WGU dual Alumnus from Prelicensure BSN and MSN Leadership and Management

Jane Swanson, PhD, RN, NEA-BC, FAAN
Director
Geri and Richard Brawerman Nursing Institute, Cedars-Sinai Hospital, Los Angeles

Sylvain Trepanier, DNP, RN, CENP
Regional Chief Clinical Executive
Providence St. Joseph Health

General Education Council

Milton Chen
Senior Fellow
The George Lucas Educational Foundation
Ph.D., Stanford University

Christine Johnson
Chancellor/CEO
Community Colleges of Spokane
Ph.D., University of Colorado, Boulder

Matt Newcomb
Associate Professor & Composition Coordinator, English Department
SUNY New Paltz
Ph.D., Pennsylvania State University

Amelia Ross-Hammond
Professor of Music, Director, Service-Learning and Civic Engagement
Norfolk State University
Ph.D., University of Denver

Frances A. Hume, SPHR GPHR
President
Hume 'n Resources Consulting
MBA, University of Utah

Ernest E. Wessman
General Manager
Rescue Alert
MBA, University of Utah

Jim Stice
Professor
Brigham Young University
Ph.D., University of Washington

David H. Harrison
Harrison Management Consultants
MBA, University of Virginia, Darden School of Business

Information Technology Program Council

Martin Carmichael
Managing Director, Business Information Security Officer
MUFG Americas
Chakib Chraibi
Chief Data Scientist, National Technical Information Service, U.S. Dept. of Commerce
Ph.D., Binghamton University
Mischel Kwon
Founder and CEO
MKACyber
M.S., Marymount University
Kumud Majumder
Sr. Vice President (Global SME Manager - Corporate Technology Officer)
CitiGroup, NYNJ
Ph.D., Indian Institute of Science, Bangalore, India

David W. Ricker
Associate Director of Data Warehousing and Business Intelligence
Dartmouth College
M.A., John Carroll University
Education Program Council

John G. Conyers
Conyers JJ & Associates
Ed.D., Oklahoma State University

Richard Lesh
Rudy Distinguished Professor of Education
Retired - Indiana University
Ph.D., Indiana University

George Ann Rice
Associate Superintendent, Ret., Human Resources Division
Clark County School District, Nevada
J.D., University of California, Los Angeles
Ed.D., University of Nevada, Las Vegas

Darline P. Robles
Superintendent of Schools
Los Angeles County Office of Education
Ph.D., University of Southern California

Sharon Robinson
President and CEO
American Association of Colleges of Teacher Education
Ph.D., University of Kentucky

Martha Schwartz
Retired Contract Consultant

Julie Young
President and CEO
Florida Virtual Schools
MS, University of South Florida

FAQs on university governance.
Is WGU a nonprofit or for-profit university?
WGU is a nonprofit online university that was founded by 19 U.S. governors. However, it is a private university, not a state university. WGU developed out of a vision for the future of higher education that emerged among the governors of the Western Governors Association (hence our name), but WGU operates independently with its own governance structure.
What is the role of a Program Council?
Each Program Council at WGU is composed of WGU faculty and outside experts in the field of study. The councils are responsible for guiding the development of degree programs. Each council helps define the skills and knowledge that a competent graduate should possess, helps determine the best ways to assess the competence, and monitors and reviews the relevance of each program over time.
What is the role of a mentor?
Four colleges, one purpose.
WGU offers bachelor's and master's degrees in business, IT, K–12 teacher education, and health professions, including nursing. Our programs align with the most in-demand careers in today's job market, and we continually update our existing programs—and create new ones—to meet the most current needs of employers, the economy, and our students.