WGU Academic Engagement Webinars
Advance Equity Speaker Series: Lunch with Olympic Gold Medalist, Cullen Jones
Hear a U.S. Olympian Swimmer Speak About His Amazing Career
At age five, Cullen Jones nearly drowned while splashing around at a Pennsylvania water park. Immediately after Jones was put into swim lessons and developed a passion for the water. Leaving his home state of New Jersey, Jones headed to Raleigh, North Carolina to attend North Carolina State University and quickly solidified himself as one of the greatest sprinters by winning the NCAA Championships in the 50 freestyle his senior year.
In 2008 Jones, along with Jason Lezak, Garrett Weber Gale and Michael Phelps won gold in the 4 x 100 freestyle relay in a world record time of 3:08.24 which still stands. Jones was not done and in 2012 Jones made his second Olympic Team. At the Games in London, he earned silver medals in the 50 free (21.54) and as part of the 400 free relay. Jones won a gold medal as a member of the 400 medley relay as well. Throughout his career, Jones realized he can impact people's lives beyond his performances in the pool. Knowing the absence of diversity in swimming , Jones has built his career around changing the landscape of his sport.
Understanding the power of his life story, Jones began speaking with the purpose of motivating and inspiring others. His topics include, mental toughness, overcoming cultural norms, setting goals and reaching them, and exceeding expectations. Using humor and life experiences, Jones develops speeches with a focus on displaying the parallels between the sports and business world. This pursuit has transformed into a career in public speaking with notable company's such as Deloitte, Boeing, Bank of America, CitiBank, Phillips 66 and many universities.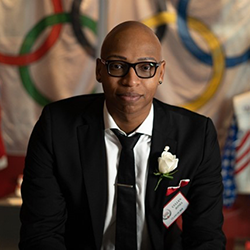 Cullen Jones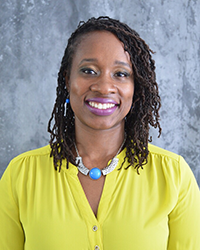 Talia Mark-Brookshire
Former sports marketing executive of nearly 15 years, Talia Mark-Brookshire recently took on the role of Director of Diversity, Equity and Inclusion for the nation's largest online, non-profit university, Western Governors University (WGU) to expand their national diversity platform for the university's 7,500 employees and over 130,000 active students. Brookshire has a wide range of experience in diversity, community outreach and multicultural marketing on the international and domestic levels. Brookshire is responsible for the oversight of WGU's employee facing diversity programs, including growing the reach of its employee resource groups, managing the Advance Equity speaker series and other education programs, and maximizing the program's internal and external messaging to realize WGU's vision to become the world's most inclusive university. Developing and managing multicultural marketing campaigns for NASCAR, Ford Racing, USA Swimming and USA Track & Field have provided Brookshire with a unique portfolio. In past roles, Brookshire oversaw marketing, public relations, social media, special events, communications, partner relations and sales. Brookshire, a graduate of Central Michigan University, is the proud mom of four daughters and lives in Indianapolis with her husband, Dustin Brookshire.