Student Experience
Graduate Outcomes
Graduation Day Is Just the Beginning
Graduating from WGU isn't the end—it's actually the beginning of the next exciting chapter in your life. Starting or furthering your career, joining our alumni network, and changing the lives of people around you are all what you can expect once you finish your time at WGU. Discover what graduating from WGU means for your future and how your diploma can set the course for you in meaningful ways.
"Going back to school wasn't easy, but I knew my WGU degree would open doors I wanted to walk through. Looking back, it was the best choice I could've made." Spencer Wade
WGU graduate

Higher pay, satisfied employers, and top companies could be in your future when you graduate from WGU. Graduates from WGU go beyond earning a degree—they thrive in their professions and make an impact on their communities. You can join this inspiring group that's making a difference in their lives, their families' lives, and the world around them. Discover how WGU graduates perform in their careers after earning their degrees. 
Stay involved even after you graduate and utilize helpful resources throughout your career with WGU's Alumni Services. You can access additional learning resources to help you continue your career growth, network with other WGU alumni, pursue new job opportunities, get résumé and interview help, and more. Once you're a Night Owl, you're always a Night Owl! 
Every Student Has a Story
Every WGU student has their own unique story about their educational journey—and they all act as a testament to how higher education can change lives and shape futures. Join the thousands of graduates with your own higher education story and see where WGU can take your life.
"I am now running a large engineering organization, where I'm able to apply the MBA skills and the IT management skills that I picked up from WGU in my career."
—Andre Alford, Sr. Director, Oracle Cloud Infrastructure Oracle
B.S. IT Management graduate
"I've already reaped a lot of rewards. I've gotten an increase in pay, and I also teach LPN clinicals now."
—Sarah Williams, Nurse
B.S. Nursing graduate
"Being able to work as hard as I could to get through the program in a shorter amount of time made a lot of sense."
—Dana Ralph, Mayor of Kent, Washington
B.S. Business Management, M.S. Leadership and Management, and MBA graduate
"Do it. It is very rewarding and so much easier to go back to a familiar format. It was a very smooth start and easy transition back into school mode, as I knew what was expected." Wendy Dove,
B.A. Interdisciplinary Studies
M.Ed. Learning & Technology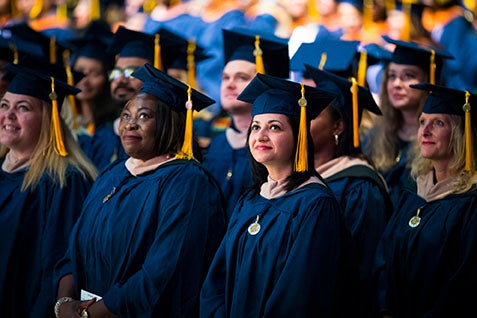 Here at WGU, we are committed to furthering educational opportunities for every student. Advancing equity and creating an inclusive, diverse university is key to what we do here at WGU. We are constantly working to advance our organization so students, faculty, and staff feel that the environment is one that is safe and inclusive. 
Four online colleges. 60+ flexible degree program options. One highly respected national university.
Our commitment to your success starts with our focus on four high-demand fields: K–12 teaching and education, nursing and healthcare, information technology, and business. Every degree program at WGU is designed to fit a high-growth, highly rewarding career path. Which college fits you?