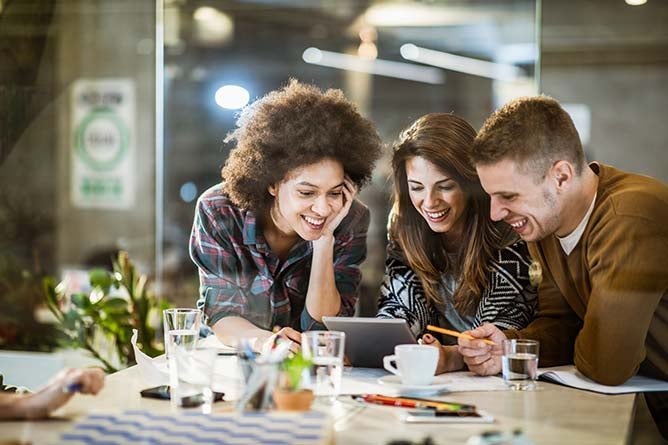 Changing consumer preferences and technological innovations aren't just transforming the way sellers and consumers interact—they're creating exciting new marketing job opportunities. Most of these prospects are in the field of digital marketing, as businesses and organizations are turning to the internet and social media to spread the word about their products or services. While employment of all advertising, promotions, and marketing managers is projected to grow by 8 percent by 2028, the Bureau of Labor Statistics reports, growth in these emerging digital fields will no doubt rival that projection.
Here are five emerging marketing roles that might not be on your radar yet.
1. Content manager.
Many businesses no longer rely solely on traditional advertising efforts to educate their market about their products and industries. Content marketing involves creating and delivering informative and engaging stories across a wide range of media, including websites, newsletters, magazines, videos, and graphics. Content managers typically supervise a team of writers, editors, and artists who craft these stories; they ensure that all content is consistent with an organization's brand identity and marketing goals.
Further Reading: What are the best gig economy jobs and apps?
A survey cited by the American Marketing Association notes that content creation skills are some of the most in-demand skills in today's marketing landscape and that 71 percent of marketing professionals have difficulty finding employees with up-to-date digital skills. As content becomes a more important marketing tool, talented marketing graduates should face excellent employment prospects. Having a degree in marketing management and a background in communications can help you succeed in this role.
2. SEO manager.
The aim of search engine optimization (SEO) is to get an organization's website to turn up as often as possible as a top-10 result on major search engines. SEO managers, sometimes called SEO account managers, research keywords and keyphrases to improve search engine rankings. By optimizing a piece of content with proper keyword usage and placement, article structure, and topical focus, SEO managers build brand awareness and convert website visitors into customers. They also write reports on their research and analyze website traffic, using tools like social media, pay-per-click advertising, and link building to bring browsers to websites, study.com says.
SEO managers often work hand-in-hand with content managers to optimize content. The American Marketing Association notes that, along with content creation skills, SEO skills are currently in high demand. The need to fill that gap is creating many marketing job opportunities for people who specialize in SEO management. You'll need a degree in marketing to become an SEO manager, and you'll need to demonstrate solid analytical skills and digital prowess to be successful.
3. Conversion rate optimization analyst.
Conversion rate optimization is a marketing tactic that tries to get website visitors to take action, whether that's requesting more information, subscribing to an email list, taking a survey, signing up for a webinar, or purchasing a product. A conversion rate optimization analyst often works as a consultant for a business client, studying how well their web content is generating sales leads and developing strategies for improvement.
Conversion rate optimization analysts typically have a background in data science. They use their data analysis skills to run tests, evaluate data on conversion rates, and identify opportunities for companies to convert visitors into customers. Marketing graduates with top-notch data science and analytics skills will have an advantage on the job market; a bachelor's degree in information technology management or a master's degree in data analytics can give you a leg up on the competition.
4. Online community manager.
As businesses and other organizations marketing their products and services have steadily increased their online presence, a new marketing position has emerged that involves managing discussions about the brands on blogs, forums, and social media. A community manager uses analytical tools to monitor these online communities while engaging with participants and coming up with creative ways to build brand loyalty. Community management is related to social media marketing, but it occurs after an organization's social media content has been published.
Forbes reports that about 40 percent of consumers follow their favorite brands' social media channels, and 25 percent of those followers will purchase something from those brands. Marketing professionals with social media savvy and a passion for customer engagement are crucial for organizations hoping to capitalize on these numbers. A degree in marketing management is perfect for people who aspire to be a community manager, as it helps them develop the communication skills they need to interact effectively with potential customers.
5. Customer experience manager.
Good customer service has always been essential to marketing success, but more organizations are upping their attentiveness by hiring customer experience managers (and sometimes chief customer experience officers). These marketing specialists aren't just aiming to boost brand loyalty; they want to create brand advocates by providing a customer experience so satisfying that customers connect with the brand and recommend it to friends and coworkers. They might also analyze products and purchasing trends, enhance websites, and plan sponsored events.
Customer experience manager is a growing role. Many startups are adding them to their management and executive teams, Forbes reports, and InformationWeek notes that industries such as healthcare are hiring customer experience officers to manage the patient experience. A degree in business management will help candidates gain the fundamental business knowledge needed to understand and enhance the customer experience.
An evolving field.
These five jobs might draw blank stares from folks outside of the business world, but as demand for specialized marketing skills continues to grow, these jobs will quickly become marketing industry staples. Having a degree in marketing management will help you land one of these jobs, but your areas of specialty will help you get a leg up. If you're interested in data analytics, for example, SEO or conversion rate optimization management might be right for you. If communication and people are more up your alley, consider a community manager position.
No matter what job you pursue, though, having a solid educational foundation in business and marketing is key.