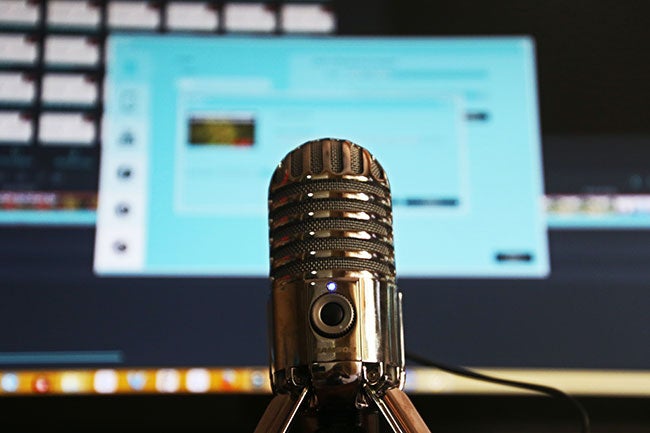 As a business student, imagine being able to access the world's top experts for business advice, whenever, wherever. With podcasts, it's possible.
Of the more than 48 million podcast episodes out there, 3 million of those focus on business. Many of them feature interviews with innovators, entrepreneurs, or CEOs who share their expertise and secrets to success, as well as the latest industry trends and insights.
Whether you're looking to expand your business knowledge, stay up to date on the latest industry news, or find inspiration as a small business owner, podcasts make perfect sense. They're a free, easy way to get information on the go, allowing you to listen while you're driving to work, spending time at the gym, or taking a study break. But with millions of episodes to sift through, you might be wondering where to start. 
To help you narrow your search, this article lists 10 of the best business podcasts for students.   
Who Should Listen to Business Podcasts?
Anyone from aspiring entrepreneurs to business students can benefit from a business podcast. While there's no substitute for the knowledge you'll gain in a business degree program, podcasts are a great learning tool that can be utilized to get started learning, complement your studies, empower your professional development, and immerse yourself in the business world. They can also expose you to innovative ideas and new topics you haven't considered yet or inspire ideas that might be useful in your future business career. 
What Are The Best Business Podcasts?
If you're looking for inspiration, motivation, or the latest industry insights, here are 10 business podcasts to tune in to.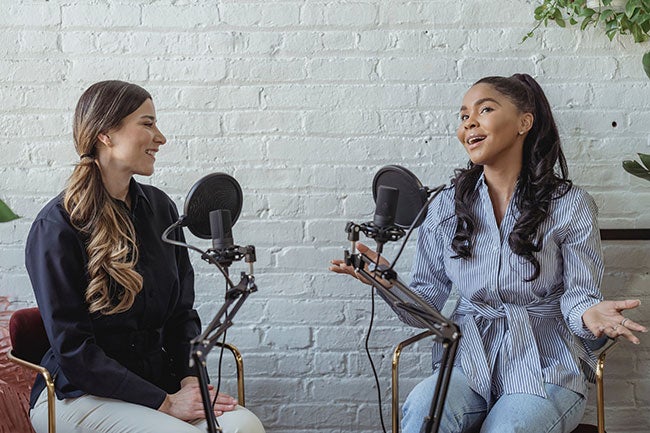 #1 Best Quick Listen: HBR IdeaCast  
The Harvard Business Review weekly podcast features 30-minute episodes from thought leaders in business and management.
#2 Best for Inspiration: How I Built This with Guy Raz  
Hear the stories behind some of the world's best-known companies and get inspired to get your ideas off the ground. 
#3 Best for Practical Advice: The How of Business  

Get a nuts-and-bolts guide to starting, running, growing, or selling a small business. 
#4 Best for Motivation: Rise and Grind with Daymond John  

Hosted by Shark Tank's Daymond John, this podcast features interviews focused on productivity, performance, and power. 
#5 Best for B2B: The $100 MBA Show  

This podcast will help you understand B2B better with quick business lessons built on real-world applications. 
#6 Best Daily Listen: Entrepreneurs on Fire  

New episodes are released every day, covering a wide range of topics from an entrepreneur's perspective. 
#7 Best for Women: She Did It Her Way  

Every week, different female entrepreneurs share the stories and challenges behind how they built their businesses. 
#8 Best Big Picture Perspective: Inside LaunchStreet  

Get tips for how to stretch your thinking at all levels of entrepreneurship and find ways to stand out in marketing, sales, and operations. 
#9 Best for the Business-Savvy: Duct Tape Marketing 

Learn about various topics—like how to maintain happiness at work and best practices for retaining customers. Plus, get actional business marketing strategies and resources. 
#10 Best for the Tech-Minded: The MarTech Podcast  

Podcast host Benjamin Shapiro covers the start-up stories of marketers and the different ways they used technology to achieve growth and business success. 
Depending on the podcast listeners needs, podcasts can be subscribed to and listened to a web browser, or mobile apps like Spotify, Google Podcasts, Apple Podcasts, Audible, and more. 

Podcasts are an effective learning tool and an easy way to absorb information, but nothing beats the education you'll receive in a business degree program. If you're serious about a career in business, WGU offers several degree programs focused on teaching you the crucial skills you need to thrive in the business world. Because our business degrees are completely online, you have the flexibility you need to do your coursework any time, any place. Take the next step toward an exciting, in-demand business career by exploring your WGU degree options now.