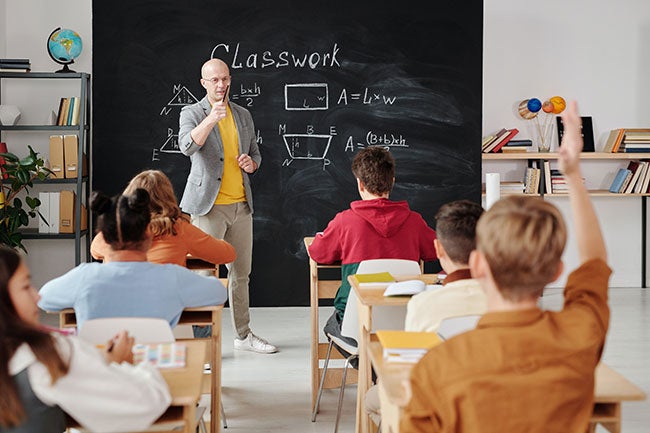 Many people go into teaching because it's a rewarding career path that shapes the lives and minds of students. However, in recent years, budget cuts, overcrowded classrooms, staffing shortages, and a global pandemic have caused many teachers to reevaluate their career.
If you're a teacher who's considering a career change, the good news is, your skills and experience can transfer to a number of in-demand jobs outside the classroom. While some of these might require you to return to college, there are many others that can put your teaching degree to good use (and might even earn you more money).

Whether you're ready for a major career change or want to advance in the one you already have, this list of 20 alternative jobs for teachers will help you explore your options.
Do you like working in the field of education but know that traditional classroom teaching isn't for you? Here are some roles in education where you can put your teaching skills to good use.
Education Policy Expert
If you're passionate about education and want to contribute to changes that improve the experiences of students and teachers, you should consider a career in education policy. Education policy experts measure the success or failure of existing policies and determine how policies will affect students, teachers, budgets, and districts. They also look at challenges faced by schools, districts, or regions and come up with policy-based solutions.
Education policy experts typically work for school boards and districts, state education agencies, the federal government, lobbying firms, think tanks, advocacy groups, and education consulting companies.

To work in this role, you'll need at least a bachelor's degree, though some districts might require a master's or a doctorate.
Average Salary: $76,019
Curriculum Specialist
Do you want to help build the future of education by working in curriculum development? If so, you can put your background in teaching to good use by creating engaging, meaningful learning experiences that improve academic outcomes. Curriculum specialists test learning data and strategies, then recommend curriculum and teaching improvements. They also train teachers on new programs and content.

Curriculum specialists can work in a variety of settings, including public or private schools, nonprofits, government agencies, and more. Whatever industry you choose, you'll need at least a bachelor's degree, but schools and universities typically require a master's in curriculum and instruction. Previous experience as a teacher or instructional leader also leads to better opportunities and pay.
Average Salary: $68,118
Program Director for Exceptional Children

A program director for exceptional children, also referred to as PDEC, is someone who has a background in special education and an understanding of relevant teaching practices and methods. This role is critical to ensure that students get the care and training they need to be successful. They have several duties—they oversee the department, plan the curriculum, and stay up to date on the latest education research.

A PDEC should typically have a few years of experience in special education. A master's degree in education can also help expand your knowledge and deepen your skills. Since the job itself requires excellent administrative skills more than classroom and educational skills, you'll want to develop those skills in any way that you can.
Average Salary: $61,500
Guidance Counselor
If you have an interest in helping students reach their academic and career goals, this career path can be a great fit. Guidance counselors advise students on academic and personal decisions. They also work with students experiencing behavioral, emotional, or mental issues that impact their ability to perform at school. In addition to working with students, guidance counselors also cooperate with parents and school staff to ensure students reach their full potential.

Some of the things you can expect to do in this role include arranging and scheduling orientation programs and internships, researching study programs and recommending them to students, and completing student evaluations.

Guidance counselors can work at any level of education: elementary, middle, and high school, as well as college, at both private and public schools. Each state has its own licensure and accreditation requirements to become a guidance counselor but most will require a master's degree and the completion of an approved counselor education program.

Average Salary: $58,120

Academic Advisor
Academic advising is often a good fit for former teachers because they already know what students need to successfully navigate their academic requirements. These professionals are involved in nearly every step of a student's education process—from guiding them through the admission process to recommending what classes to take. They also update student reports and keep track of student progress. 
Before you can begin a career as an academic advisor, you'll need to complete a few educational requirements, including a bachelor's degree, typically in education. In order to advance your career and pursue a future in academic advising, you might consider a master's degree in curriculum and instruction. This type of degree will help you understand curriculum, high school and college scheduling and student needs, and give you insights into how to work with students on a daily basis. These skills are critical for a career as an academic advisor.

Average Salary: $45,965
Instructional Designer
If you have classroom teaching experience and an in-depth knowledge of the academic landscape, this background can give you a solid head start as an instructional designer. These professionals help teachers, school administrators, and educational institutions harness the power of new technologies to improve the quality of each student's education.
Instructional designers evaluate a variety of learning tools and resources, identify what materials can benefit specific students or teachers, then work closely with educators to help implement curriculum and instruction practices.
Instructional designers typically need both an undergraduate and a master's degree in education. In addition, employers sometimes prefer candidates with at least a few years of experience in a relevant academic field.
Average Salary: $80,182
Standardized Test Developer
Becoming a standardized test developer often means earning more than you would as a teacher, which can be appealing if you're looking for a job in education that comes with a pay bump. 
Standardized test developers design evaluations that measure a student's retained knowledge at the end of a course or schooling. In addition to writing and editing test questions, they analyze data to identify areas that need testing, research sources that can be used when developing new test questions, and ensure tests are accurate and error-free.
Like many other jobs in curriculum development, test developer roles often require a master's degree. Depending on the subject matter, you may also need specific expertise. For instance, test developers that work on the LSAT might need a law degree.

Average Salary: $70,000
Private Tutor
Unlike classroom teachers who work with 20 to 40 students at a time, private tutors teach students one-on-one. If you enjoy that dynamic and have excellent communication skills when it comes to explaining complex topics, a career as a private tutor could be a good career move for you. 
Students from elementary school to college may need a tutor to reteach or explain course materials or to help them complete assignments. In some cases, families hire private tutors to ensure their children excel in a specific subject area. In other cases, tutors might work through an agency.

As a prospective private tutor, you'll need to have a bachelor's degree in the subject area that you want to tutor in. For example, if you want to become a math tutor, you'll need a bachelor's in math.
Average Salary: $50,390
School Principal
Principals supervise schools and direct their overall operation. This involves maintaining student and teacher success, handling disciplinary issues, managing budgets, overseeing hiring decisions, and more. So, if you want to advance your education career and continue to work in a school setting, transitioning to a school principal could be rewarding for you.
If you're considering this role, it's important that you feel comfortable in a leadership position and possess the strong interpersonal skills—such as communication, conflict management, patience, etc.—that are needed to excel in this position.
In most cases, school principals hold master's degrees in education administration or educational leadership. However, some principals hold only bachelor's degrees but have significant experience as elementary, junior high, or high school teachers or upper-level administrators. School principals also need different experience and certifications, which can vary by state, city, and district.
Average Salary: $111,640

Educational Consultant
Becoming an educational consultant is a great move for teachers who need a break from the classroom but still want to stay connected to education and impact students' lives in a positive way. 
The day-to-day duties of an educational consultant can vary depending on whether you work for a private company or a school district. For instance, some educational consultants work with educational technology firms to design online continuing education programs for teachers. Others might work for community programs that help homeschool families create their curricula. Most educational consultants, however, serve school districts to develop their education programs.

The educational requirements vary as well. Many districts will require you to have a master's degree, and others might want you to have a doctorate. Most will also require a valid teaching certificate, as well as continuing education requirements.

Average Salary: $65,621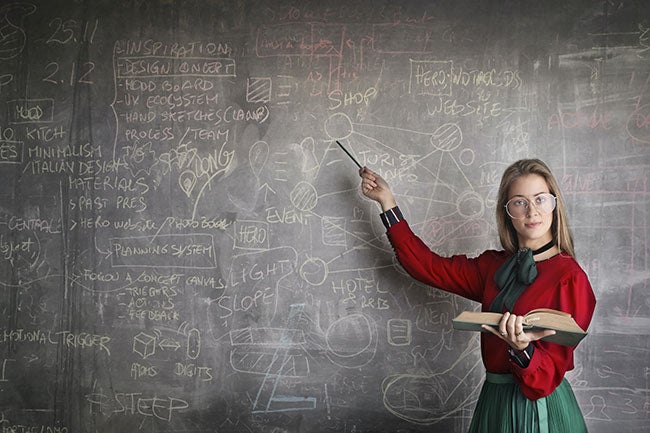 Careers Outside of Education
Ready to leave the field of education altogether? Many of the skills you've likely mastered in the classroom—such as creativity, communication, leadership, and critical thinking—can transfer to careers in a number of industries.
Given the subjects you've focused on as a teacher, you may find you're already well suited for a related field. For example, if you're an English teacher, the transition to a freelance writer could be a logical career move.
Childcare Worker
Childcare workers get the perks of working with children but don't have to deal with many of the stresses that teachers do—such as grading papers, designing lesson plans, and attending meetings. 
One of the biggest responsibilities of a childcare worker is to make sure the kids under their care are safe. They're also responsible for a child's well-being, which might include feeding meals, getting kids ready for school, or supervising play time. They can work with children of all different ages, in many different settings. Private homes, daycares, and preschools are just some of the environments you might work in as a childcare worker. 
Average Salary: $26,790
Sales Representative
Teaching skills, like the ability to educate prospects and communicate clearly, lend themselves particularly well to a career in sales. Much like teachers, sales representatives are great at interacting with people and identifying their needs. They also rely on strong communication, negotiation, and writing skills.
A sales representative's responsibilities can include pitching products or services, cold-calling prospects, and interacting with clients to ensure they have a positive experience from start to finish.

Some sales positions may not require a formal degree, but many experts agree that it's ideal for prospective sales representatives to have at least a bachelor's degree, as it opens more doors.

How much you make in this career largely depends on your abilities and work performance. If you're the type of person that wants to control your income rather than working for a traditional salary, this is a job to consider.

Average Salary: $57,286
Financial Advisor
This career can be a good match if you have a particular interest in math and accounting or a background in teaching topics related to those subjects. Financial advisors work with clients to help them realize their financial goals and provide advice and strategies so that they can reach those goals. They also research various stocks, mutual funds, and markets worth investing in, to achieve substantial returns for their clients.
Financial advisors require specialized education to prepare them to accurately manage client finances. In addition to a bachelor's degree, it's a good idea to take courses in investments, taxes, estate planning, and risk management. If you choose to become a certified financial planner (CFP), you'll also need to complete a CFP program.
Average Salary: $89,330
Freelance Writer
Teachers who are self-motivated and want more control and flexibility in their daily lives might enjoy a career as a freelance writer. Since teaching requires strong writing skills, many find this to be a natural transition. 
Freelance writers create all types of content, including blogs, research articles, brochures, instruction manuals, short stories, advertisements, and more. Teachers who become freelance writers might specialize in the subject they once taught or take an entirely different direction into technical or educational writing, which can be similar to the skills involved in teaching.

Some teachers start freelancing while also working full-time, then transition into freelancing full-time as they begin to gain clients.
While many employers prefer writers with a writing background, you can increase your chances of being hired if you have a strong writing portfolio with relevant work samples. Strong research skills, grammatical knowledge, and the ability to network are all key for getting started as a freelance writer.
Average Salary: $63,213
Corporate Trainer
A career move from teaching to corporate training might feel like a natural transition for those with a passion for developing others. Corporate trainers are similar to teachers in that they support learning and development. However, instead of working with students in a classroom, corporate trainers work with employees in a professional setting to promote their career growth. They may train teams to develop their skills, create training programs, develop and conduct assessments, and evaluate an employee's progress. Interpersonal skills, as well as an enthusiasm for teaching, are musts for this role as corporate trainers work with people on a daily basis.
When it comes to education, many employers look for a candidate who has, at the very least, a bachelor's degree. In some cases, they may want you to have a master's degree and additional certificates or college courses related to corporate training.
Average Salary: $59,630
Tour Guide
Museum tour guides serve as educators for a museum, which is why this path can be a natural fit for some teachers. In this role, you'll be responsible for keeping guests engaged as you lead them through a museum's exhibits, explain their significance, and answer questions. This sometimes involves leading individuals or groups of all ages, including children. With your teaching background, you might also be in charge of organizing educational programs, lectures, or field trips.
The qualifications for this position can vary based on the position and type of museum, but many require that their museum tour guides have at least a bachelor's degree in a related field. However, former teaching experience can be extremely beneficial for getting your foot in the door. You might also benefit from volunteer experience.
Average Salary: $33,421

Human Resource Specialist
Many of the interpersonal skills used in teaching translate to careers in human resources (HR). These professionals are in charge of anything related to staffing—including recruiting, interviewing, and screening applicants for a company. Similar to teaching, HR specialists work with a variety of personalities and learning types when it comes to training new hires. They're also tasked with handling employee relations, pay, benefits, and training.
Because of how essential the role of HR is, the demand for HR specialists is expected to continue growing over the next several years. This is a great position if you're looking for stability and like working with and managing teams of people.
HR specialists need to have a minimum of a bachelor's degree in human resources to gain the business and managerial skills necessary to recruit new employees, manage and set new company policies, etc. In some cases, employers might want to see certifications that are relevant to the position.
Average Salary: $63,490
Digital Marketer
If you're looking for a job that taps into your creative side, consider marketing. It could be an easy transition if you taught business, communications, or creative writing, as many companies look for people who possess these skills.
Digital marketers have many responsibilities, including writing words and phrases for marketing content, establishing a brand voice, collaborating with other team members, and brainstorming new marketing initiatives.

This career path can offer diverse opportunities since marketing is used throughout all types of industries and fields. Schools, businesses, nonprofit groups, and hospitals all utilize marketing teams to help them promote their products or services. Whatever industry is interesting to you, chances are that they need a marketing manager to help them develop creative content and sound strategies.
Most employers will want you to have a bachelor's degree in marketing or a related field, so this job could require some extra coursework. However, earning this kind of degree will equip you with the critical skills you need to be a successful marketer and content creator.
Average Salary: $62,601
Registered Nurse
With extra schooling, you could be ready for an in-demand nursing career that utilizes many of the skills you already have. Similar to teachers, registered nurses (RNs) need to be empathetic, detail-oriented, and emotionally resilient.
 RNs are vital to the healthcare industry and provide essential treatment and care to patients in hospitals, nursing homes, and other healthcare facilities. They counsel patients, discuss treatment methods, administer medications, and perform physical exams. 
If you're looking for a job that provides a high level of stability and satisfaction, this career path can provide both. Becoming an RN tops polls regarding job satisfaction and career quality. Plus, employment of RNs is expected to grow 9% from now until 2030.
Becoming an RN requires intense education to ensure you understand best health practices and how to provide excellent care to patients. You'll need to have a nursing diploma and pass the NCLEX-RN exam.

Average Salary: $75,330
Event Planner

Are you highly organized and detail oriented? If so, you might excel as an event planner. Event planners coordinate all the moving parts of events, including weddings, corporate events, fundraisers, award ceremonies, and more. Teachers with an interest in this career path can put their planning skills to good use, as much of what an event planner does involves booking venues, arranging transportation, and coordinating with vendors.
A degree isn't typically required, although a bachelor's degree in marketing or management can give you many of the skills needed to succeed in this job. A couple of years of experience planning events will also help you get your foot in the door.
Average Salary: $50,794
Whether your professional interests are in or out of the education world, the best way to position yourself for a new career move is to learn as much as you can about the topic. Exploring an online degree program at WGU is a great way.