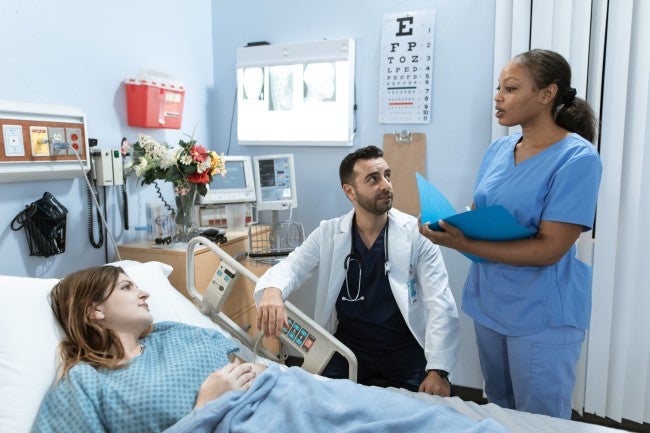 A big part of what makes the nursing profession so exciting is that you have many paths to take within the field. These include registered nurse (RN), nurse practitioner (NP), licensed practical nurse (LPN), and physician's assistant (PA), to name a few of the more popular job titles. This variety of roles within nursing benefits new and established nurses alike because it offers them multiple paths to grow their careers. Nowadays, it's common practice for a nurse to work in one area of the profession for a few years and then transition to another. Online nursing degrees provide an effective way for working nurses to accomplish this next step in their careers. 
What is a registered nurse?
Registered nurses have earned a license to practice nursing in their state. A nurse's roles and responsibilities include: 
Administering hands-on patient care in a variety of settings, including hospitals, medical offices, nursing homes, and other facilities. 

Working alongside physicians and other members of the healthcare team to provide the best course of treatment possible. 

Helping educate patients and their families about health issues.
To become a registered nurse requires education and training. Earning an associate degree remains a popular option because it tends to be the fastest and most affordable way to become a nurse. But it may not be enough to make you a strong competitor for today's more desirable nursing positions. Earning a bachelor's degree in nursing (BSN) is more likely to make you a stronger contender for a job at a top hospital, most of which are only hiring nurses that have earned their BSNs. 
What is a nurse practitioner?
NPs are advanced practice registered nurses (APRNs), which means they possess the skills of an RN and significantly more. Their roles and responsibilities include: 
Performing annual and advanced physicals

Diagnosing acute and chronic health problems

Developing patient treatment plans 

Ordering diagnostic tests 

Prescribing medications (if their state allows)

Ordering certain types of treatments

Performing in-office procedures

Educating patients

Providing referrals
In addition to the above duties, level of education, training, and experience also distinguish NPs from RNs. To become a nurse practitioner, you have to earn a bachelor's degree, get licensed, gain experience in the field, and then pursue an advanced nursing degree. 
Educational requirements.
Nursing education is key to ensure you're prepared for success as an RN or NP. And for most nurse practitioners, you'll need to start as a nurse, so much of the initial education and training will be the same. Let's take a closer look at the educational requirements for each nursing position. 
Earn a degree. Pursue an associate or bachelor of science degree in nursing from an accredited school. This nurse degree is critical to giving you credentials, training, and skills you will need to be successful.

Complete clinical training requirements. This includes coursework and supervised clinical hours in a hospital or other healthcare facility. Clinical hour requirements vary, but it's usually three clinical hours for every hour of classroom instruction.

Apply for licensure. Apply to your state board of nursing to take the National Certification Licensing Examination (NCLEX) to become a licensed nurse in that state. 

Take the NCLEX-RN. Once you are deemed eligible by your state board of nursing, you must sit for and pass the NCLEX in order to earn your RN license.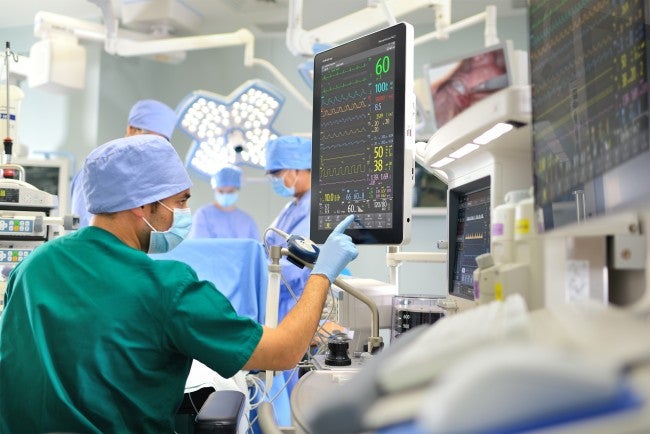 Qualified health professionals such as RNs and NPs have a specific scope of practice—the services they are deemed competent and permitted to perform—in cooperation with the terms of their professional license. While both roles are critical to our healthcare system, it's important to note their differences. RNs deliver direct patient care as specified in a patient's medical plan while NPs create this patient care plan alongside other advanced practice providers and supervise other medical staff, including RNs and medical assistants. 
Different states will also have unique practice scopes for nurses and nurse practitioners, so it's important to understand what your license allows.
An RN manages patients' daily activities, medications, assessments, and scheduled procedures and operations. RNs work closely with physicians and other healthcare staff to ensure all are aligned on patient care plans and updates. Their scope of practice includes:
Assessing patient conditions

Providing treatment

Recording patient medical history

Operating medical equipment 

Performing nursing diagnoses

Formulating nursing care plans

Administering medications

Performing examinations

Conducting medical tests

Providing extensive patient education

Making referrals to specialists
NPs are licensed, independent practitioners who practice autonomously and in coordination with healthcare professionals and other individuals. They tend to work closely with patients, sometimes with the same families over a long period of time. NPs will have various responsibilities based on the specific career path they have chosen, the state where they live, and the practice where they work. Their scope of practice includes: 
Assessing patients 

Ordering, performing, supervising, and interpreting diagnostic and laboratory tests

Diagnosing and managing acute, chronic, and complex health problems

Initiating and managing treatment, including prescribing medication and non-pharmacologic treatments

Coordinating care

Counseling individuals, families, groups, and communities.

Educating patients and their families and communities

Promoting health 

Preventing disease 
Serving as healthcare researchers, interdisciplinary consultants, and patient advocates

Salary and career prospects.
Nursing practice and experience go hand in hand with nursing education, and all are key to a nurse's success. As with many professions, salaries for RNs and NPs vary depending on factors such as education, experience in the field, and the state in which they practice. But for the most part, both positions pay well and the jobs are plentiful. As of May 2019, the U.S. Bureau of Labor Statistics reported an average annual salary of $115,800 for NPs who earned a master's degree and $73,300 for RNs with a bachelor's degree. RNs looking to grow their careers both professionally and financially would clearly benefit from pursuing a MSN FNP degree—the main factor that influences an NP's salary and career prospects. Essentially, the more education you have, the greater your earning potential and the more in demand you will be. 
As far as job outlook is concerned, the BLS reports that employment of registered nurses is projected to grow 7% by 2029 while employment for NPs is projected to grow a whopping 45% during the same time period. The BLS cites "an increased emphasis on preventive care and demand for healthcare services from an aging population" as the reason for this enormous projected growth for the NP role. 
Career possibilities for RNs include working for home healthcare services and in hospitals, physicians' offices, and nursing care facilities. They may also work in outpatient clinics and schools. NPs may work in all of these same environments, but because of their advanced training, they have the option of pursuing one of multiple specialty roles,  including certified registered nurse anesthetist, psychiatric mental health NP, pediatric NP, orthopedic NP, and urology NP. The beauty in becoming an NP, besides the fact it is an important and meaningful role in healthcare, is that most NPs started out as RNs and it was a natural next step in growing their careers. 
So if you're considering a career in nursing, a BSN degree is the best place to start so you can become an RN and gain some real-world experience. Then, who knows? Maybe after you've conquered those two amazing milestones, you'll be inspired to reach even further, pursuing an MSN FNP degree online while you're working and becoming an NP. No matter which path you choose for your nursing career, WGU can prepare you with the skills and knowledge you need to work in one of the most meaningful and in-demand fields out there.