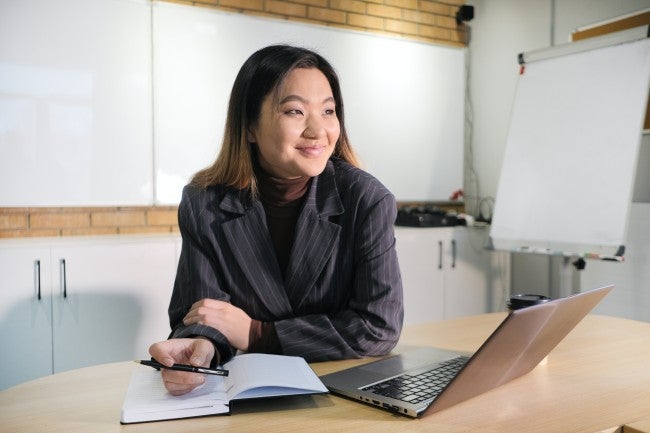 Every great leader understands the importance of managing people effectively, building a teamwork mindset, and moving everyone toward a common goal. But when it comes to just how to do that, there's more than one approach. 
Whether you're studying to become a business administrator or aspiring to be one, understanding different management theories now will help you become a more effective and well-rounded leader in the future. 
Organizational leadership is just one of several theories you'll likely explore in a business management degree program, but you can also learn more about it below.
What is organizational leadership?
Organizational leadership is a people-oriented approach to management based on the idea that motivated employees are likely to be more effective and productive. Unlike other conventional leadership methods, organizational leadership utilizes action-based and results-based strategies to empower employees to work together toward a common goal. 
An effective organizational leader excels at understanding the strengths and talents of each employee and is able to leverage those skills to help both the company and its people succeed. They're the kind of leader who thrives on constant innovation, responds flexibly to change, is strategic with the organization and the direction it is going, and is able to understand the worldview of their employees. In other words, think of this leader as the managerial glue that holds an organization together.
Whether or not this is your first time hearing about this kind of leadership, it probably won't be your last. Organizational leadership can be applied in almost every industry—from healthcare to finance and beyond—and it's gaining popularity as more and more organizations are recognizing the need for their leaders to have stronger people skills and strategic interpersonal awareness. That said, taking the time to understand this type of leadership development now will only help you in the future when you step into a leadership role.
A degree from a respected university can be key in helping you be prepared for this type of leadership. Education is always important for leadership development, and the right business degree could help you be prepared by teaching you about leadership strategies and techniques that can help.
What are key characteristics of organizational leadership?
Strategic leadership is all about taking informed actions that guide your people toward set objectives. So, if you think about it as a selection of choices and decisions that are aimed at achieving a specific goal in order to succeed, you'll notice the link between strategy and organizational leadership.
Strategy also gives you a framework to use when you're considering the actions and processes you want to use in order to communicate, empower, and direct your employees. It's more than a plan of action or policy—strategy in management is about creating a vision that moves your company forward. In an organization this type of strategy is key to success.
An organizational analysis can help you better understand how your business functions. In most cases, an analysis will review areas like work environment, operations, growth, and personnel. Many important details can emerge about the functions and capacity of an organization through an organizational analysis. It's important for leaders to do these periodically so they can identify problems or inefficiencies in their organization and come up with strategies for resolving them. For this reason, strategy and analysis often go hand-in-hand for an organization.
Beyond identifying areas of strength and weakness, an organizational analysis can help your company find innovative solutions, like new ways to structure incentives so employees are more motivated and productive. 
Vision is a clear, compelling, and practical picture of your organization's future. It's an essential element for successful leadership—but it's different than your company's mission or strategy. Vision is identifying what the future can be, then communicating that idea in a way that inspires your employees. 
The purpose of vision is to unite your organization and employees around a collective idea of the future. It's especially important in organizational leadership, as vision acts as your company's North Star to guide everyone in the right direction. With a vision laid out, you'll be better equipped to make day-to-day decisions, create and execute goals, and identify core beliefs.
It should come as no surprise that organizational leaders play a critical role in setting the tone for company culture. They're responsible for defining, exemplifying, and rewarding the work environment they want to foster. Oftentimes, people in leadership positions teach company culture through social interactions with their employees. 
As an organizational leader, it's important to recognize how your actions and worldview influence the workplace environment. Leaders who value an open worldview recognize their actions directly impact their employees and vice versa. On the other hand, leaders with a closed worldview can be less adaptive to change and be blindsided by situations they can't control.
Conflict is bound to happen in the workplace. When people work together day after day, it's only a matter of time before personalities clash or a miscommunication causes friction. Unfortunately, conflict can't always be avoided, but it can be successfully managed.  
Effective leaders are able to create a work atmosphere where their employees feel safe to communicate concerns and that those concerns will be addressed in a timely manner. If left unchecked, conflict can snowball and cause further negative effects, such as decreased productivity or increased employee turnover. Unresolved conflict can also significantly stunt your growth, damage your company's reputation, and ultimately affect your bottom line. 
Communication is an essential management component in organizational leadership. Whether the purpose is updating employees on new policies, addressing personnel shifts, or to listening to the opinions of employees, communication is at the core of effective management. 
As you've probably heard before, communication is a two-way street. One of the best things you can do as a leader is to make sure your employees feel heard and respected. Listening to employee issues and concerns builds trust and loyalty, which in turn drives increased motivation and productivity. Organizational leaders can learn a lot by listening to issues or concerns before they become formal grievances or create internal conflict.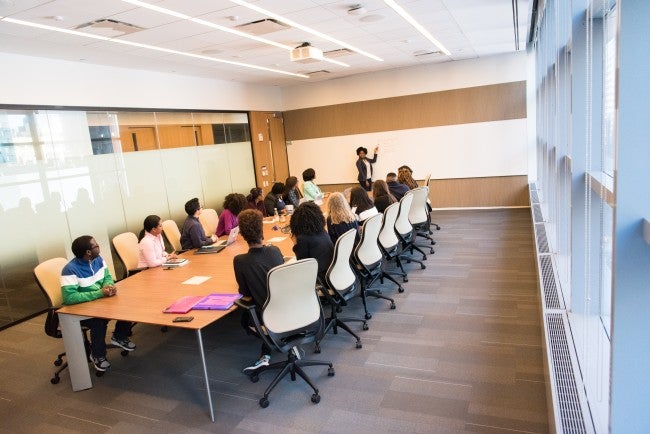 Organizational leadership vs. other leadership styles.
Transformational Leadership vs. Organizational Leadership
Both are focused on employee motivation to drive organizational success, but transformational leadership leans more into the idea that employees can be more motivated when they're given the autonomy to be innovative and creative. 
Authentic Leadership vs. Organizational Leadership
These styles are similar in that they both promote transparency in leadership, but authentic leadership takes it a step further. The authentic approach is more focused on leaders being genuine and true to themselves, while organizational managers lead with more strength and structure.
Adaptive Leadership vs. Organizational Leadership
When it comes to solving business issues, adaptive leadership takes a more leader-focused approach. Unlike organizational leadership, which relies on employee success to gain organizational success, adaptive leadership relies more on the leader's ability to problem solve and overcome challenges in order to achieve success. 
Situational Leadership vs. Organizational Leadership 
The guiding principle in a situational leadership approach is that for a leader to be successful, they need to be adaptable and task oriented. While organizational leadership also relies on a leader's adaptability, it's not so much task oriented. 
Visionary Leadership vs. Organizational Leadership
Like the name implies, visionary leaders rule with vision and give their employees the freedom to come up with the best route for bringing it to life. In an organizational management approach, the responsibility of carrying out a company's vision rests more on the leader than the employee. 
How can I be an effective organizational leader?
To be a successful organizational leader, it takes a mixture of experience, education, and a little trial and error. Even if you're not currently working as an organizational leader, you can still build your skills now by practicing self-leadership, transparency, and ownership in your everyday life. 
A degree from a top university can help you be prepared to be an effective organizational leader. A business degree from an accredited university will enhance your understanding of strategy and analysis and prepare you for helping your organization thrive. Like anything, leadership is a learning process. If you want to up your leadership skills or get an edge on the competition, a business degree program is a great place to start.