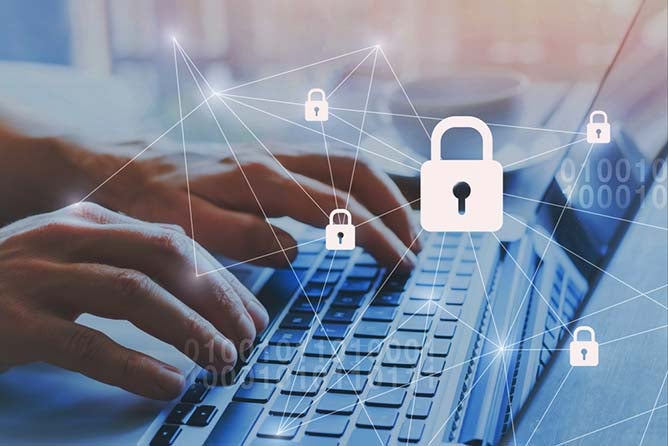 With cybercriminals ramping up assaults on servers and systems, there's an urgent need for skilled workers to combat them. LinkedIn and WGU's Cybersecurity Jobs Guide—and its 2019 update—offer a sobering reminder of this challenge, reporting that two job openings exist for every qualified cybersecurity professional living in some U.S. metropolitan areas.
A lot of help is needed to meet today's cybersecurity challenges. There are many reasons to consider a career in cybersecurity, whether you're switching careers or jumping between IT fields. Cybersecurity jobs pay well; are projected to grow 32 percent by 2028, according to the U.S. Bureau of Labor Statistics; and are needed across a wide range of industries and sectors.
Cybersecurity explained.
Cybersecurity roles and responsibilities typically fall into one of two categories: analysts and engineers. Security analysts handle business-facing tasks, such as reporting and translating security concerns for leadership. Engineers build and test systems to protect against cyberattacks, malware, and spam. You'll find many roles within a cybersecurity unit, such as information security analyst, network security engineer, information security engineer, and cybersecurity analyst.
As with any IT profession, these jobs require a basic understanding of software analysis, web engineering, cloud computing, and systems administration. But that doesn't mean you have to have a background in IT. Employers desire soft skills such as communication and collaboration just as much as they do nuts-and-bolts competencies. People with experience in the military or with more traditional law enforcement backgrounds, in particular, are drawn to cybersecurity.
A degree in information technology can help you develop the right combination of hard and soft skills, and you'll be ready to hit the job market running after you've earned one. Here's a breakdown of the different cybersecurity roles and responsibilities available to you in the public and private sectors.
Cybersecurity jobs in the public sector.
There is an immense need for cybersecurity professionals in the public sector. Law enforcement agencies need cybercrime investigators to track down identity thieves and use advanced data analytics to develop criminal profiles. Government agencies need highly trained cybersecurity professionals to protect the sensitive information they use and manage.
Working in the public sector could also mean working for the U.S. military or in the intelligence community. The Central Intelligence Agency, for example, employs cyberexploitation officers to assist operations by using digital forensic tools to extract valuable information. The U.S. Cyber Command, a division of the U.S. Department of Defense (DOD), comprises more than 130 teams that defend against cyberattacks, protect DOD networks, and launch counterattacks to support combat missions. People who are motivated by a sense of mission and duty are likely to find fulfilling work in these cybersecurity roles.
Most—if not all—public-sector cybersecurity jobs require a bachelor's degree in the field of Information Technology, such as a Bachelor of Science in Cybersecurity and Information Assurance and they could involve extensive background checks. And these jobs, like any public-sector job, usually pay a little less than their private-sector counterparts.
Someone working in a public-sector cybersecurity role will likely have different day-to-day responsibilities than someone working in the private sector. According to Cyber Defense Magazine, "Most government IT positions are highly structured and process-driven." This means that responsibilities will likely be rigidly defined in public-sector cybersecurity roles, and the career ladder could be very structured. "Working harder in a government job won't necessarily get you promoted at the pace you expect," according to Cyber Defense Magazine.
Cybersecurity jobs in the private sector.
Private-sector cybersecurity careers, on the other hand, provide opportunities for upward mobility because they're largely housed within for-profit institutions, such as banks or corporations. Big companies have responded to threats by establishing large internal security departments that employ hundreds of cybersecurity specialists—from entry- and mid-level roles to team leaders and department directors—to prevent and handle cyberattacks.
But the need goes far beyond just the biggest companies. Smaller businesses are especially susceptible to cyberattacks because they usually have less-sophisticated defense systems and resources. In the digital age, when information is stored online, organizations need cybersecurity professionals to defend their cloud computing services.
In the private sector, Cyber Defense Magazine reports, a cybersecurity professional works shifts according to their employers' business needs, so cybersecurity professionals often get opportunities to learn about and work with the latest programs and technologies. On the other hand, someone who's more risk-averse could be less comfortable working in an environment that's subject to such change.
Finding the right fit.
Ultimately, a career in cybersecurity isn't simply about working in a growing job market with good pay and a promising future. It's also about joining the fight against those trying to harm people, companies, and institutions. And it's not limited merely to people already working in the IT field. The WGU Cybersecurity Jobs Guide reports that 53 percent of all cybersecurity-related job listings are for entry-level positions.
A career pathway in cybersecurity—public or private—might be closer than you think.