WGU Academic Engagement Webinars
What Really Matters: Having Difficult Conversations
Join Us to Discuss How to Successfully Manage Difficult Conversations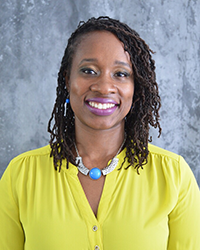 Talia Mark-Brookshire's Bio
Former sports marketing executive of nearly 15 years, Talia Mark-Brookshire recently took on the role of Director of Diversity, Equity and Inclusion for the nation's largest online, non-profit university, Western Governors University (WGU) to expand their national diversity platform for the university's 7,500 employees and over 130,000 active students. Brookshire has a wide range of experience in diversity, community outreach and multicultural marketing on the international and domestic levels.

Brookshire is responsible for the oversight of WGU's employee facing diversity programs, including growing the reach of its employee resource groups, managing the Advance Equity speaker series and other education programs, and maximizing the program's internal and external messaging to realize WGU's vision to become the world's most inclusive university.

Developing and managing multicultural marketing campaigns for NASCAR, Ford Racing, USA Swimming and USA Track & Field have provided Brookshire with a unique portfolio. In past roles, Brookshire oversaw marketing, public relations, social media, special events, communications, partner relations and sales.

Brookshire, a graduate of Central Michigan University, is the proud mom of four daughters and lives in Indianapolis with her husband, Dustin Brookshire.
This webinar candidly discusses many forms of communication and how to adjust styles during difficult conversation. This conversation was held by Talia Mark-Brookshire, the Director of Diversity, Equity, and Inclusion at WGU.