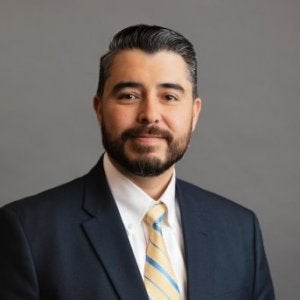 Chief Information Officer and Senior Vice President, Technology | Western Governors University
Salt Lake City, Utah, United States

David Morales serves as CIO and Senior Vice President of Technology at Western Governors University.
Areas of Expertise: 
Product and Process Development, Education Technology, and Cloud Applications
Education: 

The University of Texas at El Paso: B.S., Computer Science  2001
---
David brings to WGU over 19 years of experience as a Software Engineer and Technology Leader. He has worked for different companies during his career, from a Research and Development center for NASA, litigation support, technology consulting firms to Fortune 1. He is passionate about solving business problems with the right technology. He believes in empowering the people he works with while enabling them to innovate. David believes strongly in WGU's mission and he is helping bring the right digital experience to the students to improve their success.
Before WGU, David worked at Walmart for over 12 years, where he helped in many capacities. He helped build and lead their private and public cloud offerings for internal consumption and run the Store Associate technology. There he helped the team deliver several business initiatives, from robots scanning store inventory, to new labeling systems (including ESLs), to new Workforce Management ecosystems, to a variety of new mobile applications to help over 1 million associates at the stores, helping save the company millions of dollars by innovating and bringing better item availability at a lowest operational cost, always partnering with the business. David's knowledge in Cloud and Software Engineering are key to help WGU be successful as we continue our journey of Digital Transformation. David has a broad architectural knowledge that spans many platforms, software and infrastructure/operations. David enjoys developing people and leading high-performance teams towards conceiving and implementing innovative solutions in high-growth environments.