WGU SHRM virtual student chapter.
You won't want to miss out on SHRM opportunities!
Are you taking full advantage of your opportunities in the WGU College of Business?
If you're pursuing a WGU business degree, the Society for Human Resource Management is a great place to make connections and get opportunities.
As a future business leader, SHRM membership will help you stay informed on innovative and forward-thinking practices surrounding today's global workforce. You can benefit from SHRM membership with educational events and webinars, guest speakers, networking opportunities, resume building opportunities, connections to other WGU students in business, and much more!
As a member of the world's largest HR association, your affiliation with SHRM gives you access to incredible resources.  Whether you are already a HR or business professional or planning on becoming one, SHRM offers various tools to aid you on your career path, such as:
Your SHRM Student Membership will give you access to a wide array of valuable resources covering HR- and business-related topics, including:
Weekly SHRM-hosted webcasts
Discounts on SHRM-sponsored resources comprised of seminars, conferences, certification prep, books, and more.
Subscription to HR Magazine and SHRM e-newsletters.
Regular updates on changes in U.S., state, and local compliance regulations.
Membership in the SHRM Connect Community.
Make sure you take advantage of the invaluable opportunities that are available to members of our WGU SHRM virtual student chapter!

Collaborate with seasoned HR professionals.
Work towards achieving the distinction of the SHRM Student Chapter Merit Award.
Network on LinkedIn with fellow WGU SHRM virtual student chapter members, as well as the members of 250 other SHRM student chapters across the country.
By chartering the WGU SHRM virtual student chapter, develop highly marketable leadership skills.
Increase your business and HR knowledge by participating in WGU SHRM virtual student chapter webinars and events.
Make your WGU degree even more affordable by applying for the WGU SHRM Leadership Scholarship, valued at up to $2,000.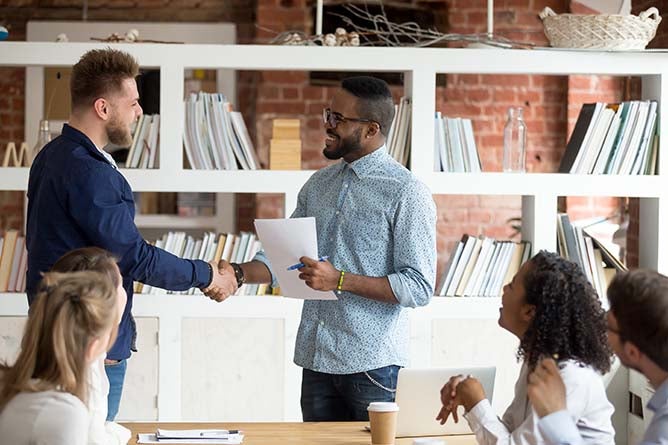 Upcoming Educational Events for 2020

SHRM awarded a 2019-2020 Honorable Mention Award designation to the Western Governors University SHRM student chapter for providing superior growth and development opportunities to its student members.
Join the WGU SHRM virtual student chapter today.
In order to join the WGU SHRM virtual student chapter , you'll need to currently be enrolled at WGU and be a SHRM Student Member. If you have a current SHRM professional membership, you would need to change to a student membership in order to join the chapter. If you have questions or concerns about switching from a professional membership to a student membership, you can speak with a SHRM representative at 1.800.283.7476. The WGU SHRM virtual student chapter number is #5773.
Student executive committee members.
Jennifer Davidson, President
Jennifer Davidson is currently working on obtaining her bachelor's degree in Human Resource Management.  Jennifer has worked in Human Resources for fifteen years and is employed as a Human Resources Generalist. There's something special about helping people that she enjoys, and the field of Human Resources has provided Jennifer with many opportunities to do that. Jennifer lives in the Pacific Northwest and appreciates spending time with family, camping, hiking and kayaking whenever time permits. 
Jose Barraza is currently a full-time student at Western Governors University, concentrating in the area of Human Resources, and obtained his SHRM-CP certification in June of 2019. Jose has lived in El Paso his entire life and is very proud of belonging to a diverse and multicultural city. Currently, Jose works in Human Resources for a public-school district in El Paso, Texas. His tenure in school districts in the region accumulates to over 10 years of experience in the public sector. Mr. Barraza is honored to be Vice President for the 2020 - 2021 Western Governors Society for Human Resource Management Chapter.

Crystal LaBeau, Secretary
Crystal LaBeau is currently working on her undergraduate degree in Human Resource Management, with the intention of pursuing her MBA in the Fall of 2020. The majority of her career has been with the public library, where she has served on the front lines in circulation, but also has supervisory experience that includes recruitment and training. Crystal and her husband reside in Maryland, where they are the proud parents of a 4-year old son and two cats.  
Nichole Wood is a learning and development professional with over 20 years of experience. Starting as a technical trainer in 1999, she's since held almost every role in the L&D field, leading small individual projects to global projects and training teams. Currently, Nichole is working on her bachelor's degree in Human Resources Management. She is passionate about helping people be their best and reach their untapped potential. Nichole resides in beautiful Bend, Oregon. 
Ashley Dugger, Primary Faculty Advisor
Dr. Ashley Dugger started her career in higher education in 2006, focusing initially in admissions/enrollment management. She has since focused her professional career in operational leadership and human resources management, and holds a Doctorate of Business Administration, as well as her SHRM-CP certification. She joined WGU as the Program Chair for the HR Management degree in February of 2019. She also has extensive experience as a faculty member at both the graduate and undergraduate levels and has focused her faculty work with primarily adult learners in the online education/blended experience arena. She was selected as part of a national search in 2018 to participate in the CUPA-HR 2018-2019 Wildfire program that provides an immersive higher ed HR leadership experience for participants.
Sunil Ramlall has a Ph.D. and M.Ed. in HRD from the University of Minnesota and an MBA and BA in HRM from the University of St. Thomas. Prior to joining the HR faculty at WGU, Dr. Ramlall was a full-time faculty member at the University of St. Thomas and Minnesota State University, Mankato. He currently has 32 scholarly journal articles published in various academic journals. Prior to academia, Dr. Ramlall worked in various HR capacities at Target Corporation, Carlson Companies, University of Minnesota, and Northwest Airlines.
April Kinchen is a Program Mentor at WGU for the College of Business.  Her educational background consists of a Bachelor of Business Administration from Sam Houston State University, her Master of Science in Organizational Leadership and Development from Colorado State University and she is currently a PhD student at Liberty University in Business and Human Resource Development.
Her industry experience is two part which consists of years in operational leadership roles in Higher Education to include Dean of Student Affairs, National Director of Student Relations and National Director of Employment Relations.  She has a strong background in corporate roles in human resources including nonprofit, energy, consulting and healthcare in HR Director, and Sr. HR Director roles.
WGU. Business school reinvented.
Find out why Harvard Business Review says we're the "real revolution in online education."