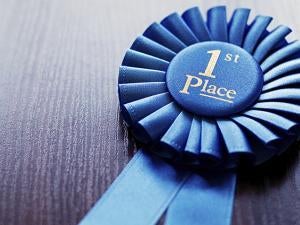 This month, 102 WGU Night Owls who completed their capstones in 2015 are being recognized for their outstanding work. 
To celebrate student excellence in the completion of this important endeavor, WGU grants Capstone Excellence Awards. On an on-going basis, capstone faculty nominate deserving individuals with whom they have worked on capstones. The finalists' work is then reviewed and selected by the evaluation capstone supervisor and evaluation manager in each college. 
Often, students' capstones are chosen because they provide an excellent example of  one of the following:
Expressing ingenuity (creativity, originality, initiative, or resourcefulness).
Exhibiting mastery (higher competency, true craftsmanship, or proficiency).
Enabling synergy (creating greater value by serving individuals, an organization, or their community).
Besides the nominating statement and examination of the completed capstone project, the reviewers consider:
Did the candidate earn highest scores on most aspects of the final capstone rubric?
Was the candidate nominated for an Excellence Award for a prior capstone task?
Did the candidate average two submissions or less on all capstone tasks?
Were appropriate originality scores obtained?
Was the capstone completed within a reasonable amount of time?
Note: The importance and relevance of these criteria differ somewhat by degree program.
The capstone is the culminating degree project where WGU students integrate all of their program competencies. It represents our candidates' best work, and most of their projects are archived with student permission, making them available to other students, graduates, mentors, and accreditors to view. See below for the list of WGU students (now graduates) who received the Capstone Excellence Award for their work during 2015. Links to their nomination statements, capstone work, and the Capstone Excellence Archive (which contains the work of former students) are accessible through WGU authentication.
This recognition is noted on the recipients' WGU transcripts, and they receive a Capstone Excellence Award certificate. This achievement is also recognized in various university publications. For aspiring students seeking future Capstone Excellence Award recognition, please review the submissions in the Capstone Excellence Archive and discuss criteria with your student mentor, capstone facilitator, or capstone course mentor to guide your capstone efforts.
Aspen White

MBA Information Technology
Strengthening the Autism Center [Not Archived]
Christopher Manwill
B.S. Business Sales Management
Emily Wadman
MBA Management and Strategy
Nursing Retention [Not Archived]
Juan Posada
MBA Management and Strategy
Electro-Engineering Process Improvements [Not Archived]
Joseph Schaefer
MBA Management and Strategy
Central University Bookstore, Improving the Student Experience [Not Archived]

Celena Mock
M.S. Management and Leadership Grow
David Williams
MBA Healthcare Management
University Medical Center: Managing Labor Cost  [Not Archived]

Jeffrey Gayon
B.S. Business Sales Management
Matthew Loughmiller
B.S. Accounting
LEM Accounting, LLC [Not Archived]

Nicole Knodt
MBA Healthcare Management
Creating an Effective Antimicrobial Stewardship Team [Not Archived]

College of Health Professions
Amber Billman
M.Ed. Learning and Technology
The Effects of Advanced Teaching Strategies on Vocabulary Retention and Understandings [Not Archived]

Charlie Bruner
M.A. Science Education (5–12), Chemistry
Dianne Parry
M.A. Mathematics Education (5–12)
Teacher Work Sample Portfolio [Not Archived]

Jessica Conlin
M.A. Mathematics Education (5–12)
John Martin
M.A. Mathematics Education (5–12)
Laura Krueger
M.A. Mathematics Education (5–12)
Mark Anderson
M.Ed. Learning and Technology
Qaynen Utley
M.Ed. Instructional Design
Sherrie Burgoyne
M.Ed. Learning and Technology
Learning Multiplication Facts and the Frustration Students Feel [Not Archived]

Stephanie Kitchens
M.S. Special Education
College of Information Technology
Glen Gerber
B.S. Information Technology
Extract and Purge of Client History

John Paul Pascua
B.S. Information Technology
John Smith
B.S. Information Technology
Website Redesign with SEO

Russell Thorup
B.S. Information Technology
Tech Widgets, Inc. Pilot for Desktop Virtualization