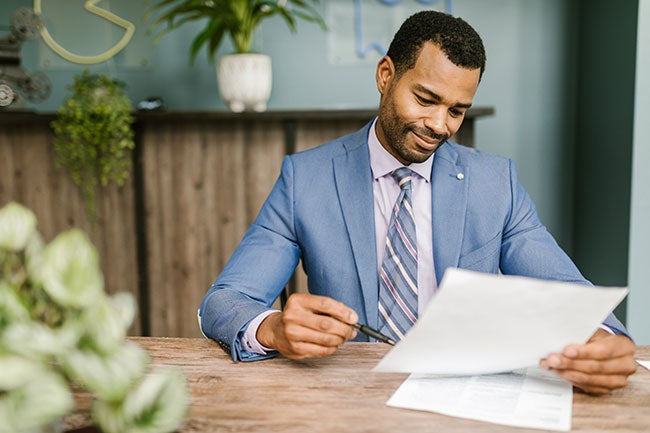 The business world needs leaders who are skilled in administration and ready to act decisively and ethically. In fact, demand is so high that the U.S. Bureau of Labor Statistics has projected that from 2020 to 2030 there will be more than 200,000 new jobs available for top executives.
Developing skills within the area of business administration opens doors and qualifies you for many jobs. This post will give you a glimpse into what a career path in business administration looks like, which jobs business administration majors might pursue within the field, and how you can go about earning a business administration degree. Let's get started.
Business Administration as a Career Path
There are many career pathways in business administration. What do they look like and how do you find them? That's where a degree, mentor, and solid network can help. Unlike the medical field where you are limited to only a few professions with your degree, a business degree opens you up to a nearly limitless number of career possibilities. This freedom can be exciting, especially when you understand that you're not alone on your journey to discovering your path.
In general, those with a business administration degree work in roles as financial managers, office administrators, or executives. Those with titles like CEO, COO, or manager often have business administration degrees, or, at the very least, a wealth of real-world experience in the area. Applicants for these positions often enjoy six-figure salaries, especially if they hold a graduate-level degree. In fact, U.S. News reported that in 2020 the average compensation for MBA graduates was more than $176,000.
There are many areas of specialization within business administration. Let's take a deeper look at some business administration jobs.
A business administration professional working in procurement focuses on obtaining the necessary supplies and resources for the company to be successful. Their areas of focus and ability may include research, cost analysis, inventory control, contract negotiation, and future needs projection.
Some people might think "receptionist" when they hear the term "office administration." The role of an office administrator, however, encompasses much more than just answering the phone and ensuring employees have the tools they need to do their jobs. Office administrators are business and people leaders who oversee every element of running a successful office, whether it's budgeting and bookkeeping, performance management, project management, or HR.
Human resources professionals must be skilled at working with people to improve the effectiveness and profitability of an organization. This requires business administration skills, and, in many cases, HR professionals hold an HR degree. A career in human resources can be exceptionally rewarding as it allows you to work with many different types of people on a regular basis, helping them develop and improve.
The smooth day-to-day operations of a business are critical to its effectiveness. Those who work in operations play a key role in ensuring the business runs at peak efficiency while supporting employee morale. A chief operations officer, or COO, is the main executive responsible for daily business operations and strategic internal alignment of the company. Many times, these individuals hold an advanced degree in business administration.
Advertising and Marketing
A business needs effective marketing and advertising to stand out. Those who work in this field can be both highly creative and analytical, as they must understand not only the data but also how customers think. Formal training in the field of business administration can be helpful to those who wish to become any type of marketing manager, such as chief marketing officers (CMOs) or advertising directors.
If a business doesn't sell its product or service, it doesn't survive. Therefore, sales managers are critical to a company's success. Business administration degree holders can be effective salespeople by bringing to the table a robust understanding of what makes a business run smoothly, from the sales floor all the way to the daily operations.
Consulting and Development
Business administration professionals can make great consultants. With a critical eye trained to discern what makes a business succeed, they can provide companies with sound guidance and direction. There are many specialties within consulting, including management, strategy, operations, and financial advisory.
Entrepreneurs start their own businesses. Through their schooling, business administration graduates learn the ins and outs of what makes a company successful. Many use this knowledge to become successful entrepreneurs. While a business administration degree is a great foundation for a career as an entrepreneur, nothing compares to the lessons you learn simply by starting a business and discovering how to keep it running.
What Are Good Examples of Careers in Business Administration?
We've explored some of the general pathways within business administration, but now let's take a deeper look into the specific careers and job titles that fit within the field.
Business consultants often train and develop personnel with the aim of improving the organization. They may present a company with specific training programs or conduct workshops. Specialized consultants provide advice on niche areas of the business ranging from search engine optimization (SEO) to advertising. The job outlook for business consultants is very favorable with management analysts seeing projected job growth rates of 14% through 2030 with annual salaries starting at $75,000.
To be an effective sales manager, you should not only understand the inner workings of a business but also have people and sales skills. Sales managers oversee sales teams, ensuring proper training and consistent revenue production. The market for sales managers has been projected to grow 7% from 2020 to 2030. According to the U.S. Bureau of Labor Statistics (BLS), the median annual salary for a sales manager as of 2020 was $132,290.
Business or Market Research Analyst
Good market research or business analysts help companies understand their customers, the best products to sell them, and how to go about promoting those products. Demand for market research analysts is set to skyrocket by an eye-popping 22% through 2030, according to the BLS. As of 2020, they report the annual salary for this position was $65,180 with the top 25% of earners making more than $85,000.
HR Manager and HR Specialist
Human resources managers are specially focused on attracting and keeping talent, settling disputes between employees, and sometimes overseeing benefits, payroll, and compliance. The job outlook is favorable for this role, as the market is set to increase by a healthy 9% from 2020 to 2030. As of 2020, the median annual pay for HR managers was $121,220.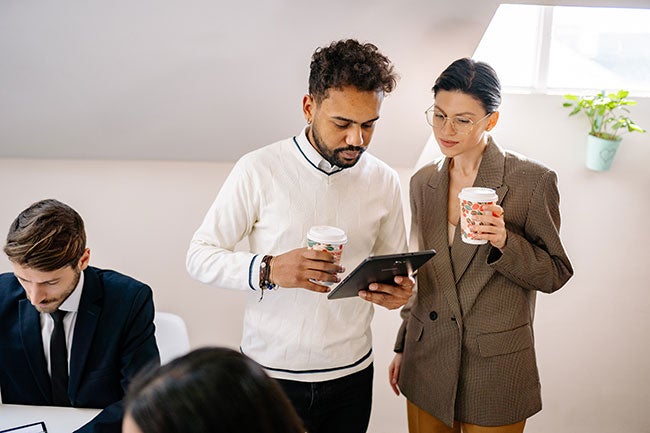 Loan officers analyze the information and financial goals of individuals and businesses and authorize loans accordingly. According to the BLS, the job market for loan officers is set to hold steady, and the average salary sits at a respectable $63,960, though the highest earners enjoy healthy six-figure salaries.
An event planner in the business world is tasked with coordinating all aspects of corporate or company events. They must account for everything from venue to entertainment and materials. Often, event planners are in charge of trade shows or other corporate-focused conventions. These individuals make an average of $51,560 per year as of 2020, with demand expected to grow 18% from 2020 to 2030.
Financial Analyst/Advisor
Financial advisors research investment opportunities and help their clients invest in the areas that will help them reach their specific goals. These advisors and analysts may work for individuals or companies, but overall, their goal is to maximize return on investment while mitigating risk. The market for financial analysts is projected to see steady 6% growth. The median salary for this role is around $83,660.
The best advertising managers and marketing managers use both their creativity and analytical skills to connect the customer with the business or product. They specialize in promotional work and oversee marketing and advertising efforts. With a healthy average salary of $141,490 and a projected job growth rate of 10%, the market for advertising managers is quite favorable.
Getting a Degree in Business Administration
A degree in business administration can set you apart. Whether it be a bachelor's degree in business, or a business master's degree like an MBA or an M.S. in Management and Leadership, a degree can supply the skills and confidence you need to get a head start in your career.
WGU's programs are entirely online and custom-built to give you real-world skills that will help you as you lead a business. Many of our master's students graduate within 12 months and see an average salary increase of $16,200. Our unique competency-based format allows you to pass assessments whenever you're ready to accelerate through classes at your own pace using your existing knowledge. You'll also be assigned a personal Program Mentor who will help guide you and keep you on track. Take tests at two in the morning, study on your down-time, and complete your degree on a timeline that works for you.
Next Steps: Starting Your WGU Degree
If you're ready to get started, take a look at our business degrees. Courses start at the first of each month, so you won't have to wait long for a new semester to begin. Once you find a program that interests you, go ahead and apply. We will be in contact with you and will be happy to answer any questions you have as you begin your journey with us.
Frequently Asked Questions about Business Degrees
Do you have questions about pursuing a business degree? If so, you're not alone. Here are some of the most frequent questions about business degrees along with some helpful answers.
Is business administration a good program?
Yes. A degree in business administration can prepare you for many in-demand and high-paying jobs. Gaining the professional skills and the credential of a business degree can prove valuable for your future career prospects.
What can you do with a business administration degree?
A business administration degree opens you up to many career opportunities and potential positions. With a business administration degree, you can prepare for a job in areas including marketing, human resources, accounting, business management, financial analysis, and event planning.
What are careers in business administration?
There are so many careers you can pursue within business administration that it's tough to list them all. Some popular titles include executive director, chief strategic officer, vice president, many C-suite roles, and more. The career possibilities within business administration are nearly limitless.