PC Technician Career Guide
How to Become a PC Technician
Often recognized as a computer technician or a computer repair technician, a PC technician solves problems that arise with customers' computers. PC technicians are responsible for all phases of the computer repair process, from identifying initial issues to executing a solution that leaves the device once again functioning properly.
One of many available IT jobs, the job of a PC technician is to serve as an experienced advocate and specialist in ensuring a computer runs well for as long as possible. Even if nothing is wrong with a computer, a PC technician can help test and optimize its performance to get the most out of the device. When a computer does malfunction, PC technicians help resolve issues, recommend new parts, and troubleshoot technical aspects of the computer's hardware, software, and network connections.
If you have a passion for problem-solving and technology and are looking to expand your IT career beyond the help desk, the role of a PC technician is ideal for you.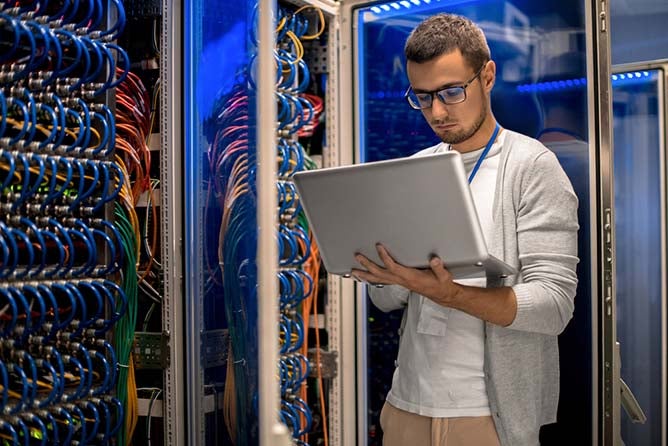 PC technicians help customers identify and overcome issues with their computers. When testing hardware, they examine a computer's circuit board, disk drivers, and other components. When analyzing a computer's software, they use various diagnostic tools and programs to identify and resolve functionality issues.
Earning a career as a PC technician is a great method for breaking into an entry-level IT role. To fulfill the role of a PC technician, you will generally need at least a qualifying undergraduate degree. Experience is also important to become a PC technician. The more computers you have handled and repaired, the more you can leverage past experiences to satisfy the needs of future customers.
What Does a PC Technician Do?
As one of the best entry-level IT jobs, the role of a PC technician involves communicating with clients, identifying issues in the performance of their computers, and efficiently fixing those problems. Here are some of the duties of a PC technician:
Installing computers and other devices across company networks.
Testing connections and operating systems on individual devices to ensure that computers function well independently and as part of a larger network.

Uninstalling outdated programs on computers, and replacing them with fully-protected programs that offer similar or improved functionality.

Updating computer software programs as updates become available.

Researching potential hardware and software updates to advocate that any new programs be added to company devices once those updates are released.

Troubleshooting devices to identify and solve any issues with hardware or software performance.

Identifying and eliminating computer viruses or other threats and implementing measures to protect devices against any future data breaches.

Communicating with clients and fellow PC technicians as well as any other IT support staff who might help in completing shared tasks.

These and other responsibilities keep PC technicians busy. When they're not proactively updating programs or installing new devices across corporate networks, they might be communicating with clients, troubleshooting issues, or researching new methods for improving IT operations.
What Education Does a PC Technician Need?
What Degree is Best for a PC Technician?
Information Technology – B.S.
Award-winning coursework and value-add certifications make this...
Award-winning coursework and value-add...
Award-winning coursework and value-add certifications make this online program a top choice.
Time: 71% of graduates finish within 30 months.
Tuition: $3,625 per 6-month term.
Certifications: Includes AWS, ITIL, LPI and CompTIA.
The LPI Linux Essentials and ITIL® Foundation Certification are central to this program. Included CompTIA certifications are A+, Network+, Security+, and Project+.
College of I.T.
Accelerated Information Technology Bachelor's and Master's Degree
Earn both your bachelor's in IT and master's in IT management at...
Earn both your bachelor's in IT and master's in...
Earn both your bachelor's in IT and master's in IT management at a faster pace with fewer courses
Time: Approximately 5 years.
Tuition and fees: $3,625 per 6-month term for the bachelor's degree; $3,940 per term for the master's portion..
Certifications: Includes AWS, ITIL, LPI and CompTIA.
The LPI Linux Essentials and ITIL® Foundation Certification are central to this program. Included CompTIA certifications are A+, Network+, Security+, and Project+.
College of I.T.
---
Our Online University Degree Programs Start on the First of Every Month, All Year Long
No need to wait for spring or fall semester. It's back-to-school time at WGU year-round. Get started by talking to an Enrollment Counselor today, and you'll be on your way to realizing your dream of a bachelor's or master's degree—sooner than you might think!
---
What Certifications Does a PC Technician Need?
Certifications go hand-in-hand with a degree program to help demonstrate to employers that you have specific skills and experience. While a PC technician may not have many specific certifications required, several types of certifications can help demonstrate to employers your knowledge and experience, and can help you stand out in the job market. Some top certification options include:
CompTIA A+ 
CompTIA Network+ 

CompTIA Security+ 

CompTIA Project+ 

CompTIA IT Operations Specialist
CompTIA Secure Infrastructure Specialist 
Amazon AWS Cloud Practitioner

CIW User Interface Designer 

LPI Linux Essentials 

ITIL®1 Foundation Certification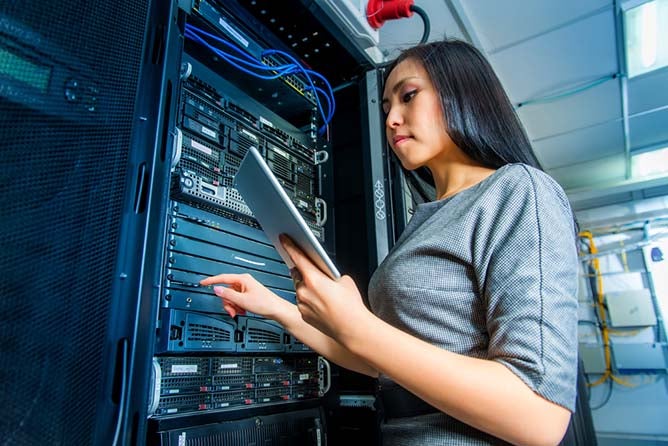 What Skills Does a PC Technician Need?
PC technicians—and anyone working in a technology-heavy field—rely on specific IT-related skills each day. In communicating with clients, troubleshooting devices, and updating operating systems, PC technicians require client-facing and technology-facing skills that keep devices running smoothly. PC technicians must be skilled in the following areas:

Technological proficiency. The ability to fully use all technological applications required for the position, including computers, tablets, phones, online platforms, system diagnostic programs, and all of the most popular operating systems. 

Software management. The ability to implement software programs for troubleshooting purposes and company use, in a way that helps all computer users thrive in a professional environment.

Hardware management. The ability to understand and manage all company hardware, from servers to individual user devices.

Problem-solving. The ability to identify issues and apply creative solutions that minimize device downtime and keep networks running efficiently.

Device inspection. The ability to quickly inspect any computer or device and identify potential issues which might be causing seen or unforeseen problems.

Interpersonal communication. The ability to correspond effectively with fellow PC technicians, company executives, and any clients with computers that require service.

Project management. The ability to appropriately pace your tasks without reaching IT burnout.

Organization. The ability to record any necessary details from client or customer computers, including their past repairs, device RAM, processor temperatures, software and hardware versions, and other relevant details that can inform further optimizations.

Cybersecurity. The ability to implement protocols that keep devices safe from viruses and data breaches.
These skills and others allow PC technicians to achieve success each day. When these skills are fully utilized, PC technicians can help keep corporate environments of all sizes functioning well without technology-related interruptions.
How Much Does a PC Technician Make?
$43,854
The exact income of a PC technician can vary based on several different factors. These can include your employer, employer's location, years of experience, education, active certifications, and your payment structure.
In general, the annual salary of a PC technician can average around $43,854, with that number reaching $55,000 or more in states like New York. Keep in mind that many PC technicians are paid hourly wages which can increase their overall salary significantly.
What is the Projected Job Growth?
9%
Employment for all computer support specialists is forecasted to grow 9% from 2020 to 2030. This growth rate is well above the standard across all occupations and represents a favorable job outlook for years to come.
An overall increase in required PC support is expected as more and more companies require IT services. As companies upgrade their computer equipment—and experience the computer-related issues that come with network expansion—they will need PC technicians to help facilitate smooth growth.
Where Do PC Technicians Work?
Varies
PC technicians can work in a variety of different locations. Commonly, a PC technician will work in an enterprise environment, helping to set up networks and troubleshoot hardware and software issues for private clients and larger organizations. Depending on the nature of your hire, you might work in locations such as private technology organizations, government buildings, technical support firms, and digital marketing agencies.
PC technicians are also commonly employed directly by larger companies to function as part of their IT departments, and to ensure smooth computer functionality across all departments.