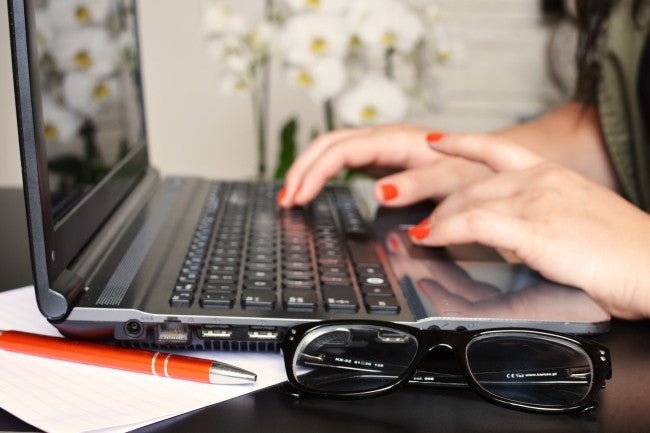 If you're considering an online IT degree, you might have lots of questions about how it will work, and if it will be worth it. When you get an IT degree from WGU, it's more than a simple diploma. We equip you with specific career-relevant skills that are crucial for your success in the IT world, the path to a degree and certifications for one low cost, and a world of possibilities for what you can accomplish when you leave WGU. Get three important questions answered about getting an online IT degree.
Question 1: What will I learn in an online IT degree program?
There are a wide variety of IT degree programs you can enroll in to be prepared for a career. Each one will be unique and have specific courses tailored for a career path. In many you'll learn IT fundamentals, coding languages, scripting and programming, computer science basics, and more. Depending on which degree you choose, you may also have additional business or technological courses you need to take. The more specific degree you choose, the more specific coursework you can expect.
At WGU, we offer bachelor's and master's degree programs with unique courses to help prepare you for your future. Our different degrees teach programming languages like HTML, CSS, Java, Python, etc. We also have degrees and courses on cybersecurity, information systems, analytics, cloud computing, and more. Learn more about all of the degree programs we offer at WGU to discover what you'll study, and what careers you can pursue with each degree.
At WGU, we care about your needs. For many students, flexibility is key to them being able to earn a degree. That's why we use competency-based education for all of our IT degree programs. CBE means that you can move through your courses as quickly as you master the material. If you already know some of the material, you can move through that coursework quickly. Or if you have more time to study or pick up a concept fast, you can breeze through. You can also spend more time on areas where you need additional work and study with no penalty. When you learn with WGU, you're in the driver's seat.
Question 2: Should I earn an IT degree or IT certifications?
It's common to consider if you should earn IT certifications or a degree. Both are extremely valuable to your IT future career in information technology. At WGU, we don't think you should have to choose between the two of them! That's why we offer top IT certifications within each of our IT degrees, at no extra cost. This will help you improve your skills and knowledge, as well as qualify you for your chosen industry. 
If you already have some IT certifications, they can be used to help you waive certain courses within your IT degree program as well. IT certifications and degrees go hand and hand here at WGU.
When you enroll in certain courses, you'll learn that they will prepare you for a specific certification. After you've studied the material, you receive a voucher and detailed help from your Program Mentor to find a certification center close to you. Your voucher allows you to take your certification exam 2 times for free. For most of our degree programs, passing your certification exam is the final way you pass the course, and move forward in your program. 
More isn't better when it comes to IT certifications. The reality is that top IT certifications focus on quality, not quantity. Depending on the career path you want to pursue, there are specific IT certifications you'll want to go after. Other kinds of IT certifications won't be as important, so it's best to pursue the most valuable IT certifications for your specific field. We offer relevant IT certifications that connect with the degree you're pursuing, so you don't get certifications that won't impact your future career.
Most IT certifications will cost you close to $3,000 when all is said and done. Prep courses average around $2,513, and the tests themselves are around $300 each. With WGU, you can save on your IT certifications and get a degree. For our bachelor's degrees in IT, our 6-month tuition is approximately $3,500. That tuition price will give you test prep, exam fees, AND a degree. By choosing an IT degree at WGU, you're paying much less, and earning much more.
Question 3: What can an IT degree help me achieve?
At WGU, we don't want you to just leave with a degree or certifications. We want you to leave with a clear career path ahead of you. Our degrees are there to help you get started in your future. 
WGU has more than 128,000 graduates across the country. This wide network of alumni can help you make connections wherever you live. Thousands of WGU graduates now hold jobs as managers, directors, and C-Suite executives, thanks to the credentials and skills they got from their degree program.
Here at WGU, we want you to achieve your highest potential. For some students, this means a complete career transition into a brand new field. For others, they are currently working in IT and want to have the credentials they need to move their way up the ladder. WGU helps you achieve your goal of a degree without having to quit your current job. You can work full-time while expanding your knowledge. We want you to achieve as much as possible, so we give you everything you need.
Our alumni network is a great place to meet other alumni who can help you network and get a great job. Connecting with other alumni can help you learn about companies, job opportunities, and even land an interview! 
Our alumni are achieving great things at tech companies all around the world, including: Dell, Adobe, Amazon, Google, Verizon Wireless, Facebook, IBM, and more.
Get started with WGU today to achieve great things with your career. 
Start advancing your career today