Considering a career in health management? Now may be the perfect time to get started on that career path. According to the Bureau of Labor Statistics, the job market for health service managers is projected to grow 20% between 2016–2026—that's more growth than any other management occupation. Our current, complex healthcare system offers a broad range of career opportunities for healthcare, business, and IT professionals alike.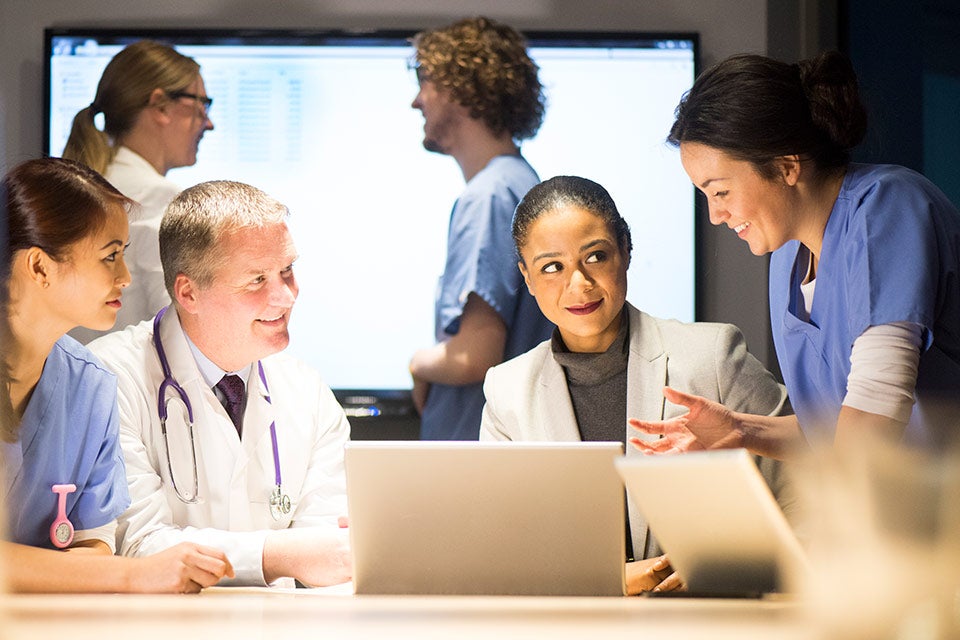 Hospitals, nursing facilities, and pharmaceutical companies need healthcare administration professionals with an up-to-date understanding of how the healthcare industry works in order to help them operate efficiently and earn money. Professionals with business education can help healthcare organizations run like a business, even though they are offering patient care and services.
In more technology related areas of the industry, electronic health records (EHRs) have changed the ways healthcare managers interact with, plan, and manage patient care and data through medical records. These changes have created a field that requires workers with knowledge and expertise in technology, research, and healthcare.
People who have an understanding of technology or business, along with healthcare are unique and are able to help healthcare organizations run more effectively and be managed properly.
WGU offers two highly respected online bachelor's degree programs designed to prepare students for specific types of careers in healthcare.
The Bachelor of Science in Healthcare Management program prepares students for a variety of management positions related to operating a business in the healthcare industry.
The Bachelor of Science in Health Information Management program provides a solid foundation in computer information systems and technologies applicable to careers in a variety of healthcare settings.
Which undergraduate degree is right for you? Start by asking yourself these questions:
"What careers can I pursue with a solid business background and an understanding of healthcare?"
The booming business of healthcare offers opportunities for professionals who can demonstrate a combination of healthcare and other industry-related knowledge, along with current skills in business administration. WGU's Healthcare Management degree program will help you graduate with the knowledge and credentials being sought by today's employers in a wide range of healthcare facilities and organizations.

If your goal is to pursue an entry-level healthcare management position (working in places like a hospital, nursing or residential care facility, insurance company, pharmaceutical organization, or government agency), or if you want to move up the ladder at the facility where you currently work, this online college degree program has been designed for you. Online students have coursework in accounting, communication, regulation, financial resource management, and business strategy as they apply to the healthcare industry. The Healthcare Management degree from WGU may be a perfect fit for you and your career goals.
OR...
"How can I combine my interests in management and technology to prepare for a career in healthcare?"
A rapidly evolving healthcare industry involves massive amounts of patient healthcare data that requires consistent and accurate management. This need has created the expanding field of health information management and informatics. Health information managers and health information technicians need expertise in technology, research, and healthcare. They work in hospitals, government agencies, pharmaceutical companies, and research labs to utilize technology to improve patient care. WGU's Health Information Management degree provides a solid foundation in health information systems and technologies for organizations that includes; healthcare regulations and governance, data and project management, revenue cycle, and information security.

This CAHIIM-accredited curriculum is designed for those who have some technical or clinical knowledge in a healthcare environment and are ready to advance into the field of health information management. By successfully completing this program, you will be eligible to sit for the RHIA® (Registered Health Information Administrator) credentialing exam. The online courses required to earn this degree are crucial for health information careers.

Next question: Are you ready to learn more?
WGU online programs in healthcare management specifically address current and expected needs for valuable healthcare jobs. If you'd like to learn more about one of our highly respected online degrees, a WGU Enrollment Counselor can provide details and help you make an informed decision about the program and career path that are right for you.