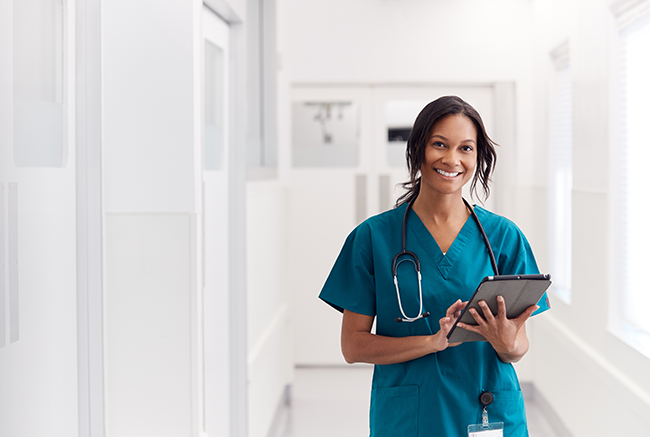 Reviewed by Kimberly Kelly-Cortez (Ph.D., M.S.Ed, MBA, CNE, NPD-BC), Senior Associate Dean and Director of Programs-Health, Leavitt School of Health.
With COVID-19 taking its toll, nurses are in higher demand than ever. Regardless of nursing type, these essential frontline heroes provide compassionate one-on-one expert care to patients.
Hospitals, schools, and even telehealth platforms—they're all eager to hire qualified nurses. From registered nurses (RNs) to nursing managers, new nurses are being called upon to fill the shortage. 
Are you ready to answer the call? If you're thinking of entering this field, then knowing the differences between an RN, BSN, and MSN is important. Also consider whether you'd like to work with kids, the elderly, or in the emergency room. There are many varied nursing career paths, so having an idea of which settings you prefer is key to determining the course for your path of study.
In general, it's wise to begin your nursing education by earning an RN license, then continuing on to a bachelor's degree in nursing.  In some cases, people opt to try out the field of nursing by becoming a CNA before preparing to be an RN. In any case, it's what happens after your initial steps into nursing that will define your career. In the spirit of starting with your dream job in mind, here are the 10 fastest-growing types of nursing jobs with job descriptions and salaries. 
1. Pain Management Nurse: First recognized as nursing specialists in 2005, pain management nurses certify to provide specialized relief for acute or chronic pain. They often work with cancer or hospice patients or those suffering from a chronic disease like diabetes. Key duties include creating care plans for those struggling with ailments like degenerative disc disease, fibromyalgia, and nerve or spinal injuries. Pain management nurses often recommend safe alternative treatments, including acupuncture, chiropractic medicine, massage, and vitamin therapy.
Average salary for pain management nurses: $111,000 (September 2022)
2. Family Nurse Practitioner: A family nurse practitioner (FNP) is an advanced practice registered nurse qualified to practice independently or under supervision. In many states, your family doctor could be an FNP. A family nurse practitioner must earn a master's degree in nursing with a specialty in the field. Sometimes, the degree required is referred to as an MSN FNP degree. While some nurse practitioners specialize in areas like pediatrics, gerontology, or psychiatric mental health, FNPs treat a more generalized group of patients. In addition to earning a master's degree, family nurse practitioners must pass the FNP national certification exam from either the American Academy of Nurse Practitioners Certification Board (AANPCB) or the American Nurses Credentialing Center (ANCC).
Average salary for FNPs: $113,936 per year (September 2022)
3. Clinical Nurse Specialist: A clinical nurse specialist (CNS) is another type of APRN. They generally meet with patients to prevent serious health conditions, focusing on the most vulnerable populations. A CNS usually works closely with a team of other healthcare professionals. In some states, a CNS can practice independently, but it's less common for them to do so. Much like the role of a nurse practitioner, the requirements to become a CNS include earning a master's degree and certification from the ANCC or AACN.
Average salary for a CNS: $91,807 (September 2022)
4. Psychiatric Mental Health Nurse Practitioner: As the name implies, a psychiatric mental health nurse practitioner (PMHNP) treats patients with mental health conditions. PMHNPs are APRNs who function similarly to psychiatrists, but with less advanced training. PMHNPs hold a master's degree while psychiatrists hold an M.D. or D.O. degree. Psychiatric nurse practitioners can diagnose mental health conditions, prescribe medications, and administer psychotherapy and counseling. They must be certified by the ANCC.
Average salary for a PMHNP: $140,302 (September 2022)
5. Certified Registered Nurse Anesthetist: Those who wish to specialize in administering anesthesia and specialized pain care might be interested in becoming a certified registered nurse anesthetist (CRNA). These APRNs must be highly trained since mistakes in this area could cause lasting negative effects for patients. CRNAs generally work with anesthesiologists and other medical professionals. They administer anesthesia, epidurals, and any other specific medications that aid in sedation and pain relief before and after procedures like surgery or childbirth.
Average salary for a CRNA: $149,145 (September 2022)
6. Infection Control Nurse: Infection control nurses must at least be registered nurses. While they're not required to have a master's degree, those who wish to increase their earning potential may go for an MSN. An infection control nurse may analyze infection data, treat people with infectious diseases, develop outbreak plans, and educate health professionals. These nurses must earn a specific certification. Learn more here.
Average salary for an infection control nurse: $84,582 per year (September 2022)
7. Certified Nurse Midwife: A certified nurse midwife is a nurse who specializes primarily in helping women through pregnancy, birth, and postpartum. While midwives can function in traditional healthcare settings, many work specifically in the home health environment, meeting mothers where they live. There are specific certifications required for midwives. They're accredited by Accreditation Commission for Midwifery Education (ACME) or the American Midwifery Certification Board (AMCB). Those wishing to become a midwife should first be RNs and then earn a BSN. There are specific approved midwifery education master's programs. 
Average salary for a certified nurse midwife: $111,130 (September 2022)
8. Oncology Nurse: An oncology nurse works primarily with cancer patients and those at risk of cancer. They monitor the condition of patients, prescribe medications to manage symptoms, and offer treatment options and care plans. Oncology nurses can work in both hospital and clinical settings. They are advocates for the patient and family as they collaborate with other members of a patient's care team. To become an oncology nurse, you must be at least an RN. It's often preferable to hold a BSN. The Oncology Nursing Certification Corporation has specific details.
Average salary for an oncology nurse: $74,090 (September 2022)
9. Interventional Radiology Nurse: Ultrasounds, MRIs, CT scans, and even minimally-invasive image guided surgeries—these are all duties of an interventional radiology nurse. Though not yet recognized as APRNs, these nurses can choose to get certified through the Radiologic Nursing Certification Board (RNCB) as a way to prove expertise to peers and employers. To become an interventional radiology nurse, one must first have at least an RN degree, but a BSN is a good idea. Experience in radiology is key, as is knowledge of how to use equipment and perform basic procedures.
Average salary for an interventional radiology nurse: $98,623 (September 2022)
10. Rehabilitation Nurse: Rehabilitation nurses play a key role in helping patients recover from health events that have caused them to lose certain abilities. For instance, many rehabilitation nurses work closely with patients who have suffered a stroke, heart attack, or spinal cord injury that left them needing rehab. Occupational therapists often work closely with rehabilitation nurses as part of the care team. Typically, rehab centers care for elderly patients who have suffered falls or other ailments. The CRRN provides certification for RNs who want to become rehabilitation nurses.
Average salary for a rehabilitation nurse: $65,470 (September 2022)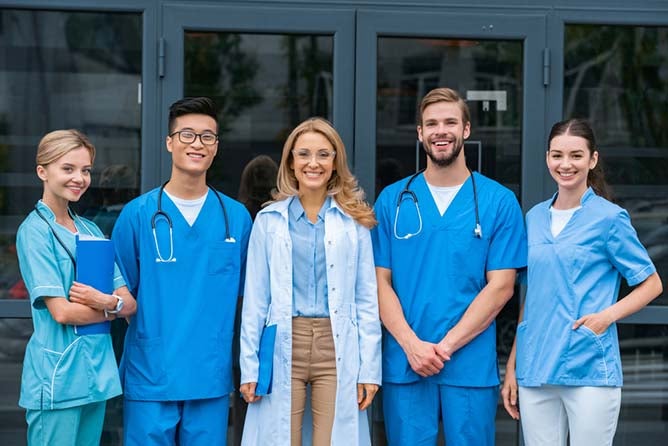 Benefits of a Nursing Career
The field of nursing is inspiring and full of unique and specialized job opportunities with favorable salaries and work scheduling options. Whether you find fulfilment in working with older patients or assisting children who have cancer, there's a specialization within nursing that can fit your interests. While many roles require a master's degree, some are suitable for RNs or BSNs. 
Inspiring: There are few careers more inspiring than nursing. Providing specialized one-on-one care, nurses can make a life-changing impact on patients and their families. Truly nurses touch hearts and leave a lasting impression on each person they care for, especially as they do so with personal concern and compassion.
Learning New Things: There's never a dull moment in healthcare. With new viruses and medical technologies, learning on the fly is essential. On the front lines, nurses are called upon to follow the latest health and safety protocols and HIPAA regulations. They often learn on the job while managing a heavy patient load.
High Demand Profession: Nurses are needed everywhere. The pandemic led to surging demand with the U.S. Bureau of Labor Statistics projecting an additional 300,000 nursing jobs from 2019 to 2029. A few things in life are certain—death, taxes, and people getting sick. Since sickness will always be part of life, nurses will always be needed.
Wide Range of Specialties: As noted throughout this post, there are several APRN specialties. Advance practice registered nurses are needed in niche specialty areas ranging from psychiatric care to family medicine. Even RNs can choose a preferred area of work and find jobs therein. For instance, those who love working with infants may choose to pursue neonatal nursing.
Flexible Schedule: Nursing schedules are unique, and they vary depending on nursing specialty. For instance, an ER nurse may be asked to work through the night, while a family nurse practitioner might work in a private practice and have a more typical nine to five, Monday through Friday schedule. If you're looking for varying schedule options, nursing is a great career option. (All nurses could work the night shift. 
Required Skills for Successful Nurses
What makes a good nurse? Nurses all need basic skills like CPR, taking vital signs, and recording information on patient charts are common skills. In addition, each specialty nurse will be highly-trained in their specific area of expertise. In general, though, these are the skills that all nurses need.  
Patient Care: Providing patient care is the primary job of a nurse. Quality patient care includes being prompt, courteous, competent, and professional. Nurses are largely evaluated on how effective they are at providing patient care. Patient satisfaction is often tied closely to how attentive the patient's nurse is to their specific needs.
Cardiopulmonary Resuscitation (CPR): CPR is one of the most basic skills for nurses, but it can save lives. When a patient is found unresponsive, CPR is one of the first measures taken. After a patient's airway is cleared, breathing is determined, and circulation is checked, CPR takes place if necessary. It's critical that CPR is done correctly so it can be effective.
Life Support and Advanced Cardiac Life Support (ACLS): ACLS is a more advanced protocol for life-threatening conditions. These procedures are followed primarily when patients or accident victims experiencing cardiac arrest. ACLS is considered more advanced than CPR and therefore requires more specialized training. To practice ACLS, nurses should be certified.
Effective Communication: Clear communication is key in all professions, but it's especially critical in nursing. Since nurses work closely with both physicians and patients, they must be able to share information in a clear, kind manner. In emergency situations, it's essential that communication is concise, clear, and effective.
Attention to Detail: "Sweating the small stuff" is the motto of nurses. When infection and life-threatening conditions are in play, every little detail matters. Nurses must be meticulous when it comes to sanitation, protocols, and keeping charts. The seemingly insignificant aspects of patient care are the ones that could make the biggest difference.
Adaptability: There's one constant in healthcare—change. Nurses get sick which means their colleagues may have to work overtime. New viruses may bring a host of new challenges. Being able to manage stress and shift gears quickly to shoulder the load is essential.
Commitment to Constant Learning: Nurses should strive to improve their knowledge of the latest evolutions and technologies in healthcare. They should also seek to improve their patient care. The nurses who are constantly learning are often the ones who progress and make the biggest difference in the lives of patients.
Begin Your Nursing Career with WGU
Regardless of the career path you choose, developing nursing skills and getting a nursing education are great places to begin. WGU has several undergraduate and graduate programs in nursing. Whether you're an RN seeking a BSN, or you already hold a bachelor's degree and are looking to advance your career and become a PMHNP or FNP, we have options. The top seven entry-level healthcare jobs that are perfect for anyone who is passionate about caring for those in need, complete with job descriptions, workplace responsibilities, salary expectations, projected job growth, and more. 
Frequently Asked Questions
What are the different types of nursing jobs?
There are so many specialties within nursing that it's difficult to name them all. However, some of the different types of nursing jobs include CNA, LPN, RN, NP, and APRN. There are several nursing specialties ranging from oncology nurse to labor and delivery nurse.  
What are the highest paying nursing jobs?
What jobs can you get with a nursing degree?
It's tough to list the multitude of jobs you can earn with a nursing degree. The short answer is several. Whether you want to be an acute care nurse, critical care nurse, or even a cruise ship nurse, a degree in nursing can get you there. RNs and BSNs have options, but APRNs and nurses with a master's degree have even more flexibility and opportunity for higher pay, greater specialization, and career advancement.