An online college that won't rest until you succeed.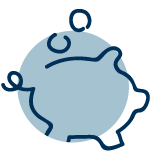 Affordable Tuition
Graduate with less student debt—or none at all1.
By going faster, you save even more.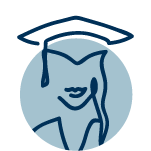 Student Obsessed
Personalized, one-on-one faculty support.
Online university education to fit modern life.
Unmatched Results
97% employer satisfaction with WGU grads2.
A degree that can pay for itself faster3.
Next Start Date
Nov 1
Start the 1st of any month—as soon as you complete enrollment!
Apply FREE this week
Our online university degree programs start on the first of every month, all year long.
No need to wait for spring or fall semester. It's back-to-school time at WGU year-round. Get started by talking to an Enrollment Counselor today, and you'll be on your way to realizing your dream of a bachelor's or master's degree—sooner than you might think!
Take the next step in your education and career.
WGU is ready to help with the Back to School Scholarship. Our costs are about half that of other universities. With our already low, flat-rate tuition, the scholarship may be the missing piece you need toward earning a degree that's accredited, recognized, and respected. 
We offer over 60 degree programs that let you graduate as fast as you learn. What are you waiting for? New terms begin the first of each month.

Accredited. Recognized. Respected.
"I'm impressed by the results in places like Western Governors University. Its low-cost online programs rely on competency-based progression, not class time or credit hours."

—Bill Gates, Microsoft Founder
The Northwest Commission on Colleges and Universities first accredited WGU in 2003 and reaffirmed our accreditation in 2016, noting WGU's "institution-wide focus on helping students succeed."
University Research & Review has named WGU a Best Value School seven years running, saying: "Every adult considering enrolling in an online degree program should take a close look at WGU, one of the most innovative schools we've seen."
WGU's Teachers College is accredited by the Council for the Accreditation of Educator Preparation (CAEP), the only recognized national accreditor for educator preparation.
The teacher licensure programs offered through the WGU Teachers College have been awarded full accreditation by the Association for Advancing Quality in Educator Preparation (AAQEP) through June 30, 2026.
The bachelor's and master's nursing degree programs at WGU are accredited by the Commission on Collegiate Nursing Education (655 K Street, NW, Suite 750, Washington, DC 20001, 202-887-6791).
WGU's College of Business programs are accredited by the Accreditation Council for Business Schools and Programs (ACBSP), a leading specialized accreditation association for business education worldwide.
Opening the door to online school.
For 21 million Americans, affording and maintaining internet access at home can be a challenge. At WGU, we won't rest until everyone has access to higher education. That's why we are providing scholarships to make online access possible for all. Watch Eulonda's story.
Frequently asked questions about our program options.
Is this program truly "at your own pace"?
WGU offers flexible pacing, meaning you can move through courses at a pace that meets your learning style and knowledge level. Students can go as fast as they can but not as slowly. Students are required to complete a minimum number of competency units per term to meet on-time progress. However, if you choose to study at 3 am daily, that we can accommodate. 
Do all my existing credits transfer to WGU?
WGU has a generous transfer policy. Our transcripts department can accept official copies of transcripts from your previous educational institutions for a course-by-course evaluation that compares the context of your courses to those in our programs, to tell you what is comparable and transferable.
How quickly can you finish the program?
Your personal progress will be determined by the extent of your transfer units, your time commitment, and your determination to proceed at a faster rate. Traditionally, without an associate's degree or equivalent, it will take 2 to 2.5 years. Master's degree programs are designed to be completed within 2 years. However, we work on a competency-based model, which gives you credit for passing assessments and proving you can perform a task or understand a course of study proficiently. 
Can you skip ahead if you get done early?
Yes! If you are able to complete the minimum requirement before your term is over, you can add more courses, with no tuition increase.
Does WGU offer financial aid?
WGU is approved to offer federal student aid. You will need to apply using the FAFSA, which is used to determine your eligibility for aid. WGU's FAFSA school code is 033394.
Yes! WGU is regionally accredited by the Northwest Commission on Colleges and Universities (NWCCU), the highest form of accreditation.
How do WGU courses compare to classes in traditional schools?
WGU offers competency-based education. Competency-based learning means our online degrees are based on real-world competencies as opposed to seat time or credit hours. Our focus on ensuring you possess the skills and knowledge you need to be successful, not whether you've attended class or not.  If you already have knowledge in an area a course covers, you'll be able to draw upon this experience to complete assessments faster, ultimately saving you both time and money.
Does WGU offer job placement?
WGU students and alumni have access to career services which include professional development, career exploration, and career planning. WGU also has partner employers who share full-time, part-time, and paid internship opportunities.
What is the best online college?
We may be biased, but we believe WGU is truly the best online college. Our unique education model, affordable tuition, and complete flexibility mean that students are truly in charge of their own education.
What is the easiest degree to get online?
Earning a degree isn't easy work, but WGU takes away many of the pain points to make earning a degree as seamless as possible. It's valuable to find a degree that is online, doesn't require you to log in at a certain time, and is affordable. WGU lets you work on your coursework any time that is convenient for you, and lets you move through the material as soon as you can prove mastery.
What can I do with an online degree?
An online degree helps you learn skills and earn credentials that will boost your résumé and prepare you for a meaningful career. Either a bachelor's or master's degree will be key in helping you be prepared for a new job, promotion, or salary increase. The specific jobs you can be qualified for with an online degree will depend on the specific degree you pursue.
How long does it take to complete an online degree?
It depends on the type of degree and online school you choose. Some online bachelor's degree programs will take 4+ years, and some online master's degrees will take 2+ years. However, WGU is designed to help students accelerate their online degrees. Our unique education model allows students to move through courses as quickly as they can master the material. This means that on average students finish bachelor's degree programs in three years or less, and master's degree programs in 18 months or less.
How is an online college different from an on-campus college?
An accredited online college offers the same valuable and respected degrees that an on-campus college offers. The main difference is that online colleges offer you flexibility in your program. For example, you don't have to go to campus and sit in a classroom. You can move faster through courses. You are largely independent in your education. These are benefits that help many students pursue degrees who may not be able to attend an on-campus college.
Are online colleges legit?
Accredidation is a key factor in determining if an online college is reputable. Accreditation is done by independent agencies that determine if an institution meets the important academic standards needed to demonstrate value to employers. For example, Western Governors University is accredited by the Northwest Commission on Colleges and Universities (NWCCU), a regional accreditation body of colleges and universities in a seven-state region that includes WGU's headquarters of Utah. NWCCU provides the accreditation of many other major institutions, including the University of Washington, University of Oregon, Gonzaga University, University of Utah, and Brigham Young University, to name a few.
Four online colleges. 60+ flexible degree program options. One highly respected national university.
Our commitment to your success starts with our focus on four high-demand fields: K–12 teaching and education, nursing and healthcare, information technology, and business. Every degree program at WGU is designed to fit a high-growth, highly rewarding career path. Which college fits you?
¹ Since the launch of WGU's Responsible Borrowing Initiative in 2013, average borrowing per WGU student has decreased significantly. In fact, 42% of WGU undergraduate alumni complete their degrees without taking out student loans. Students at WGU graduate with less than half the debt ($14,941) of the national average ($29,900).

2 In a 2019 Harris Poll survey of 300 employers of WGU graduates, 97% said their WGU grads meet or exceed expectations.

3 WGU graduates, on average, increase their annual income by $11,800 within two years of graduation. With an average cost of $16,500 for a bachelor's degree, the average return on investment for a WGU degree is less than three years. Source: 2019 Harris Poll survey.