When deciding what career to pursue, it's helpful to look at your hobbies and passions, your strengths and capabilities, and a job that you can see yourself happily doing for years to come. But when you know that one of your callings is to help others, you have multiple career paths available to you—the most popular being a teacher or nurse.
But before you make any decisions about your career path, it can help to examine the educational requirements associated with each path, what the job entails, and even what the work environment is like so you're fully aware of what to expect when you enter the workforce in your new career. To help you make your decision, we've broken down the career path for nurses and teachers so you can take your next step toward the career of your dreams.
If you're interested in pursuing nursing as a career, you'll want to start by building a solid foundation through a nursing degree program. Most aspiring nurses start by working toward an Associate Degree in Nursing (ADN) or a Bachelor of Science in Nursing (BSN), with the option to pursue a master's degree later on to advance career prospects. Pursuing an ADN will prepare you for the beginning of your nursing career, giving you the background you need to pursue RN roles. However, a BSN will give you more opportunities to move up the ladder faster, with a more comprehensive program that will catch the eye of hiring managers.
Once you've obtained your degree, you'll be expected to take the National Council of State Boards of Nursing's NCLEX-RN exam, which determines your eligibility to get your RN license. From there, you'll get your RN license. That said, each state has different requirements for educational background and licensure procedures, so make sure to check with your state's nursing board to ensure you have everything you need to move forward on your career path.

But what if you want to become a teacher? Similar to the nursing career path, you'll want to start with a degree program that's designed to give you the education you need to support your teaching career goals. To start, you'll want to decide what area of study you'd like to focus on, but once that decision is made, you'll need to enroll in a bachelor's degree program. Part of your education will include student teaching, where you'll get in-classroom, real-world experience to prepare you for what it will be like to lead your own class. Once you've graduated with your bachelor's degree, you'll be required to take a teacher certification test as a final step before you enter the workforce. Again, the educational and certification requirements can vary by state, so make sure you check with your state's education board so you can plan accordingly.

Whether you choose to focus on nursing or teaching, pursuing your education through an online degree program can give you the flexibility you need to reach your goals. 

Job Duties and Responsibilities
Though both nursing and teaching roles focus on helping others, professionals in these careers each have their own specific set of duties they need to manage.
In nursing, the workload can be as challenging as it is rewarding. Multitasking is key, especially in high-pressure environments such as emergency rooms and hospital operating rooms. In general, nurses are expected to monitor and evaluate patients, using critical thinking to make decisions. They're in charge of improving patient outcomes, offering support to a variety of medical professionals as needed. Some of their responsibilities include analyzing a patient's health needs, communicating findings with family members, coordinating patient care across a variety of providers, doing health-related tasks such as drawing blood and giving shots, and administering medication as needed.

Teachers have a workload that can be challenging and rewarding, but in a different way. No two days are ever the same when you teach, and your tasks will depend on your specialty. But overall, teachers are expected to focus on lesson plans for each day, mentoring and tutoring students who may need extra educational support, performing student evaluations such as grading papers or periodic check-ins via a progress report, managing events and trips to support certain lesson plans, and creating goals for your students to reach on individual and group levels. You'll be expected to conduct parent conferences, where you can share information on their child's progress in class, and collaborate with them to ensure educational pursuits are being supported at home.

As you might expect, nurses and teachers work in vastly different environments. Teachers typically work in academic settings, such as an elementary school or high school. They may work in a private capacity as a tutor or in a homeschooling environment. A classic academic environment is more typical.
By comparison, nurses can work in a wide variety of locations. There are the expected work environments, such as hospitals and clinics, along with surgical centers and physician's offices. But nurses can work in private care facilities such as med spas, hospice facilities for patients who need longer term care, and nursing homes. They can work in schools, providing care to students who may be injured in some way during their school day. Nurses can work as nurse educators, helping everyone from nursing students to seasoned RNs to advance their skill sets.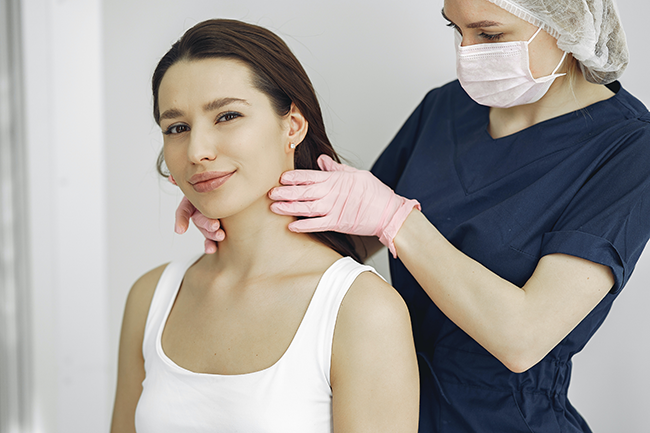 Though the roles of teacher and nurse are quite different, there are some skills that both rely on to ensure they do a good job. Both nurses and teachers need to have patience and empathy, as dealing with patients in a health crisis or students striving to meet their academic goals can be complicated at times. As such, both need to be excellent communicators with the capability to explain complex situations in a way patients and students can understand. Both can offer strong motivation to the patients and students they work with.
And while teaching can sometimes have stressful situations, stress management is crucial for nurses—especially nurses who work in a high-pressure environment like an emergency room or surgical center. Nurses need to display the ability to be flexible in high-pressure situations and possess excellent problem-solving skills that may require fast thinking—and even faster action. Critical thinking is key in patient care, as nurses are expected to quickly digest information in a way that can lead to a diagnosis. Being a patient advocate is essential, especially for those who might not be able to advocate for themselves.

Meanwhile, teachers need to be dedicated to their own self-improvement as educators, with a drive to sharpen their skills and broaden their knowledge in service to their students. Being adaptable is helpful, especially in teaching style—that way every student can get the support they need, even if they respond to one form of teaching more so than another. It's also important for teachers to suspend personal bias so students can learn in a safe environment, and teach rather than instruct so students can truly absorb the information they're learning.

According to the U.S. Bureau of Labor and Statistics, the average salary for an RN is $75,530 per year, but that number can vary as you advance your career and step into more senior roles—and it depends on which state you're in. For example, nurses in California can make $102,700 on average, while nurses in Oregon see an annual salary of $88,770. If you decide to take on more responsibility with a larger role in nursing, your salary can advance accordingly. For example, nurse anesthetists can earn $183,000, nurse practitioners can earn $108,000, and clinical nurse specialists can earn $105,000. The good news is, employment in this sector is projected to grow 7% from now to 2029, faster than the average for all occupations.
For teachers, annual salaries depend on state and what your area of focus is. For example, the U.S. Bureau of Labor and Statistics reports that kindergarten teachers make an average annual salary of $60,660 per year, middle school teachers make $60,810 per year, and high school teachers make $62,870 per year. The job projection for all three roles is steady, with a projected growth of 4% from now to 2029—and the UNESCO Institute for Statistics estimates that we'll need 69 million new teachers by 2030 to meet global education goals. Other roles teachers can advance to include ESL teaching, math and science teaching, special education, and more.

Professional Development Opportunities
Whether you choose the career path of a nurse or a teacher, both professions offer a multitude of opportunities for professional development. Nurses who want to advance their careers can benefit greatly from continuing their education, either through regular training or advanced degrees. With regular training, nurses can sharpen their skill sets through a variety of programs including seminars or one-time classes. However, advanced education, such as an RN-to-MSN degree program, can prepare you to transition into more senior leadership roles like a clinical nurse leader.
Teachers also have a variety of professional development opportunities to choose from, which will help you keep up with the latest developments in the teaching field. There are specialized or technical training that can be adapted to a particular area of interest or overall leadership courses to help you become a stronger leader both at your school and in the community. Additionally, you can take classroom management courses to increase your knowledge about student learning and engagement. Yearly classes, tests, workshops and seminars are great ways to enhance your skills, while there are plenty of conferences and lectures from thought leadership innovators in education. But to take your career to the next level, enrolling in a degree program like a Master of Science in Educational Leadership can help you advance into roles such as a school principal.

Questions to Ask Yourself
If you're still on the fence about whether you'd rather be a nurse or a teacher, ask yourself these questions to get to the root of the matter:
Do I want to work exclusively with young children?
Do I enjoy health and medicine?
Am I capable of handling high-pressure situations?
What kind of schedule do I want?
Am I good at explaining complex ideas or issues in ways others can understand?
Do I need a structured workday?
Can I think on my feet and make decisions on the fly?
Do I enjoy digging into certain topics and sharing that information in a way that connects?
Am I excellent at multitasking?
Which role can I see myself doing for the rest of my life?
Teaching vs. Nursing: Which One is Better?
When it comes to a teaching career versus a nursing career, neither is inherently better than the other. Selecting a role that's perfect for you is a highly personal choice, and whichever path you decide on will undoubtedly be the right one for you. The goal is to choose the career that works the best for you, prepare yourself as best you can to step into that role, and enjoy the ride!