Marketing Master's Degree at WGU
Are You Looking To Enroll in a Marketing Program?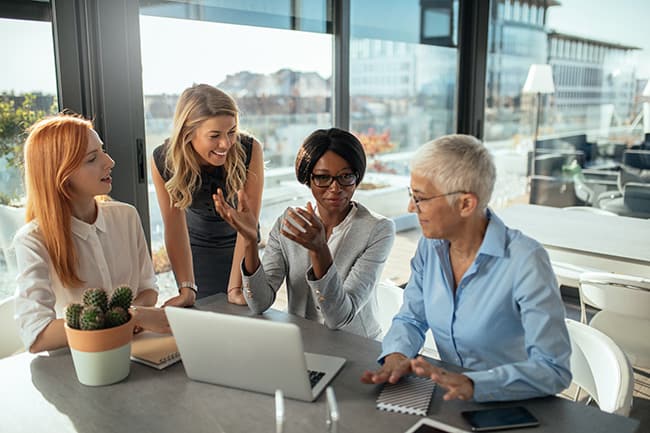 While WGU doesn't currently offer a master's degree in marketing, students who are looking to pursue an advanced career can get the education and skills they need from other accredited degrees at WGU. A Master of Business Administration (MBA), for example, gives you the tools to run and grow a successful business. Most importantly, it endows students with all the essential skills to lead a fulfilling career.
If you're interested in marketing, considering business school, or just beginning your career, you should earn your bachelor's degree in marketing. If you have already completed a marketing degree program and you are looking to advance your career, there are a number of pathways you could take. Keep reading to find out how pursuing an MBA is the most strategic academic path to level up in your career.
Needed Skills for Marketing Roles
Professional marketers possess a broad and highly-applicable range of hard and soft skills. The skills learned in degrees other than a marketing master's degree, such as an MBA, will certainly help you on your path to doing something you're interested in.
Writing
This is one of the daily tasks of a marketer. The starting blocks for building any type of marketing collateral is writing copy, so developing strong writing skills is a must.
Data Analysis and Analytics
In order to maximize the effectiveness of your marketing programs, you have to gather and analyze performance data. This is the most precise way to know if your marketing strategies work.
Project Management
Marketing projects often have many steps and involve several people from start to finish. Being skilled in project management is a huge advantage when managing the workflow and deadlines of a project.
Research
As a professional marketer, you'll run into many opportunities for research in order to build effective marketing programs, keep up with ever-changing marketing best practices and industry knowledge, better understand the needs of your customers, write compelling content, and more. Having sharp research skills will help you in your daily professional life.
SEO and SEM
Search engine optimization (SEO) and search engine marketing (SEM) are digital marketing strategies to increase businesses' online visibility. Knowing how to leverage these strategies to grow a digital presence is essential to success in any industry.
Social Media Marketing
With the majority of consumers existing on one or multiple social media platforms, business-to-consumer (B2C) and business-to-business (B2B) companies turn to marketing in these arenas in order to pique the interest of their audiences. Familiarizing yourself with social media marketing best practices and sharpening your skills is important.
Email Marketing
Email marketing is a very effective way to communicate with your audiences and drive consumers to your business's website, so learning best practices in this modality is important to successful marketing systems.
Website Management
Websites need to be managed and optimized. Marketers work collaboratively with developers to make sure the company's website is user-friendly, optimized for conversions, up-to-date, and bug-free.
Communication
Marketers spend every day communicating with colleagues, supervisors, clients, and target audiences, so strong communication skills are one of the most important weapons in a marketer's arsenal.
Creativity
Marketing best practices are always changing, and so are consumers. In order to keep their audience engaged, marketers absolutely must be creative in their strategy and communication.
Problem-solving attitude
Marketers are constantly running into unique challenges and opportunities to innovate. Taking a problem-solving approach to your daily work helps you impress your supervisor and keep your marketing efforts fresh.
Interpersonal skills
Interpersonal skills are important to maintaining strong relationships in the workplace. Resourceful marketers frequently cross-collaborate with other departments, so forging strong relationships at work is advantageous.
Attention to detail
Quality assurance to prevent errors is a really important step in marketing program production. To ensure that your work is error-free and effective, marketers must possess a keen attention to detail.
Leadership
Leadership qualities help marketers advance their careers to higher positions and salaries. If you're ambitious, you'd be smart to develop leadership skills.
Pathways to Marketing Careers:
Bachelor's Degree in Marketing
WGU's bachelor's degree in marketing prepares graduates to enter the job market as top marketers. This online marketing degree teaches the skills and knowledge marketers need to grow in their career, including digital marketing, consumer behavior, marketing analytics, sales management, branding, content creation, communication, and more. Future marketers will learn how to build strategies for products and services according to consumer behavior research. They'll learn how to work on a marketing team and how to collaborate with colleagues in various industries.
Earning this marketing degree will equip students with the skills and credentials to begin a rewarding career in marketing management, marketing strategy, brand management, event planning, sales, content marketing, digital marketing, and beyond. This is an excellent route to begin your marketing career, as it prepares you for low- and medium-level roles. If you already have a bachelor's degree in marketing or another related field and you are aiming for higher-level and leadership roles, you could pursue an MBA degree.
Master in Business Administration
The major advantage you get from seeking an MBA instead of a marketing master's degree is that not only will you advance your marketing knowledge, but you'll learn how to be a business leader, which empowers you to start your own business or hold high-level positions in start-ups and other companies.
A professional with an MBA is also poised to take on C-suite positions in their career. Earning an MBA gives you the maximum number of opportunities and transferable skills.
If you're ready to become a leader in marketing and business, WGU's online Master of Business Administration degree can be the difference-maker for your future. This program equips you with skills and credentials that give you maximum value and effectiveness in the business world.
WGU's MBA program was developed with significant input from business leaders and experts so that graduates enter the workforce with all the knowledge and skills sought by today's employers.
Marketing plays a role in virtually every single industry. There are also numerous types of marketing, including advertising and promotion, brand marketing, and content marketing. Under these categories there are even more roles. Keep reading to learn more about these different types of marketing roles and the career options you can pursue after earning your bachelor's degree in marketing or MBA.
Advertising and Promotion
Advertising directors oversee all of a company's advertising efforts. This includes communicating with clients and coordinating advertisement creation with other members of the creative team.
Advertising account managers nurture client relationships, work collaboratively with sales and marketing teams to better serve clients, create performance reports for clients, and more.
Art directors handle the visual direction for advertisements. They oversee every visual aspect of the creation of an advertising campaign.
Copywriters write prose for advertisements with the purpose of promoting or selling goods or services. Copywriters also often provide direction in the copy that is used in the design process.
Marketing Promotions Specialist
These professionals plan targeted marketing and promotions campaigns to help move business objectives forward.
Media buyers are in charge of finding, researching, and buying ad space on digital and print platforms such as YouTube, websites, on television, or in print.
Promotions directors plan and execute promotions to advertise a company's goods or services through techniques such as coupons, complimentary demos, discounts, and more.
Traffic managers are much like project managers in that their main objective is to ensure that all marketing projects and actions are on-task and employees are meeting deadlines.
Brand Marketing
Brand managers are in charge of a company's image. They handle everything related to how target audiences perceive the company, which covers the website, mission statement, product or service, marketing communications, social media presence, and beyond.
Product managers are responsible for the development of a company's product. One of their main responsibilities is identifying customer pain points and ensuring that their product's functionality solves those problems.
Brand activation managers are responsible for the process and development of introducing a new brand to a body of consumers.
Content Marketing
Content managers plan and oversee the ideation, development, and dissemination of a company's strategic messaging to their target audiences.
Content writers create print and digital content to provide information to and inspire action from a company's consumer audiences.
Digital Marketing Manager
Digital marketing managers develop and oversee online marketing strategies from conception to reporting. These marketing professionals build and run digital marketing campaigns that move the company towards its goals.
SEO managers oversee a marketing team's SEO strategy, from optimizing the website's content to ensuring that marketing content aligns with the company's SEO strategy. They also measure and report on the effectiveness of their strategy.
Social media managers oversee a company's social media presence. They create content for online target audiences and engage with those consumers to help drive them to the company's product or service.
career growth for advertising, promotions, and marketing managers from 2020 to 2030
Why is a WGU marketing or MBA program the ideal route for someone looking to start or advance their career in marketing and business? There are several reasons WGU would be a great fit:
Low, flat-rate tuition means that no matter how many classes you choose to take in a semester, you'll be charged the same amount each six-month term. Our programs are affordable so that you can get the education to pursue your dreams. 
Competency-based education means you can learn at your own pace. WGU's programs are designed so you can use your knowledge to your advantage, accelerating your program and graduating faster, which saves you money.
WGU offers scholarships and financial aid to help with our already-accessible tuition, making college education an option for even more students.
The coursework in our business programs is specifically designed to provide you with the skills for a successful career. Everything you learn will translate directly to your post-graduate work.
Marketing – B.S. Business Administration
For those who want to lead brands and steer consumer markets:...
For those who want to lead brands and steer...
For those who want to lead brands and steer consumer markets:
Time: 70% of graduates finish within 41 months.
Tuition and fees: $3,720 per 6-month term.
Some careers and jobs this business degree will prepare you for:

Marketing and PR manager
Director of marketing and communications
Director of publications
Customer intelligence manager
Marketing sales manager
Marketing is a creative and exciting field—and one where an undergraduate degree will open better opportunities.
College of Business
Master of Business Administration
The flexible MBA program you need, focused on business...
The flexible MBA program you need, focused on...
The flexible MBA program you need, focused on business management, strategy, and leading teams:
Time: Graduates can finish in 12 months.
Tuition and fees: $4,675 per 6-month term.
Sample careers and jobs this business degree will prepare you for:

President and CEO
Vice president
Executive director
Chief strategic officer
Our competency-based model gives you an innovative learning experience you won't find anywhere else—and our MBA grads tell us they loved accelerating their program to see a faster ROI.
College of Business