Get a career in education.
Are you interested in a career in education? Maybe you already work at a school or with students, or maybe you're looking to breaking into education for the first time. Wherever you're coming from, you probably have lots of questions about furthering your career. We're here to help. This career guide will help answer all your questions and prepare you for the future in education.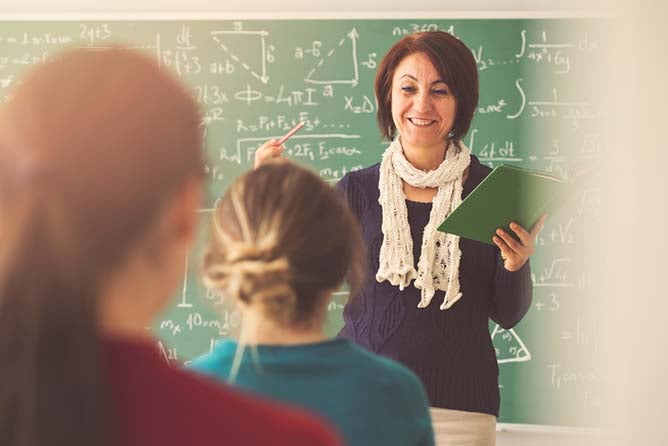 How do I become a teacher? If you've ever wondered this, we have the answers. We will explain the step-by-step process so you know exactly what you'll need to do to achieve your dream. Whatever age or subject you want to teach, the process is similar. A degree, certification, and classroom time will be required for you to get started with teaching. 
There are several tools you need to help you become a teacher:
Discover what degree options you have if you want to become a teacher. Bachelor's degrees or master's degrees can help prepare you for your future.
Each state has its own requirements for certification and licensure of teachers. Learn what to expect and how you can be prepared to be a fully licensed, official teacher.
Classroom experience is vital to being prepared to be a teacher. Learn the options you have for classroom experience and how it will benefit your career.
If you've decided that becoming a teacher is your dream, there are lots of different things to consider.  We'll help answer any questions you have, and even the ones you may not have thought of yet. Our guide includes: 
Curriculum for each grade.
Discover what each elementary school grade focuses on when it comes to all the different subjects, from math to history. This will help you determine which grade you want to teach.
---
Many educators are involved in a union to help empower them. Learn the facts behind teacher unions and how they impact your job and career. It's important to know if you should join, how to join, and the benefits they can offer.
---
Career outlook and salaries.
If you've decided you want to become a teacher you probably have lots of questions. From salaries to benefits, career outlook, and more, we can get you the answers. Be prepared for the future with our helpful guide.
Popular and in-demand fields.
Discover which fields of teaching are the most popular and in-demand. You can specifically prepare to teach in one of these fields where job security is more sure.
---
Elementary vs. secondary teaching.
Learn about the differences between elementary and secondary teaching, and how you can be prepared to teach either one. In most states, you need to be separately certified to teach either one.
---
Learn about licensure requirements by state, and how your license changes over time. If you know you may take a break in your teaching career, or want to know how to update your license, we can help.
Details of school administration jobs.
If you want to be involved in education, but aren't interested in teaching, school administration may be the best fit for you. Learn how to get involved in administration and how it can propel your career. We'll cover topics including:
How to get into school administration.
There are many degree paths you can take to get involved in school administration. Discover how you can get started on your educational journey.
Types of school administration jobs.
Discover the many types of jobs that are available within the realm of school administration. Learning about the job opportunities will help you find your dream job.
Career outlook and salaries.
We help you do the research and know what kind of salary and career outlook you can expect with a job in school administration.

Discover why becoming a teacher could be the perfect fit for you. Passion for education, the joy of helping others, the perks of holidays and summers off are just a few of the reasons why people love being teachers. If you're still on the fence about if being a teacher is the right choice for you, this may help you see the great things that are behind the profession.